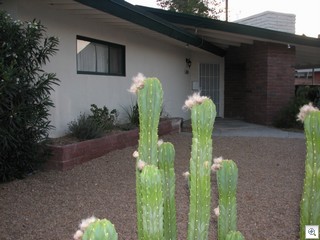 I took the picture to document the bumper crop of flowers that are starting to form on my organ pipe cactus. Of course I was worrying about lighting the cactus, documenting the most number of buds, and all that.
When I looked at it in the computer, though, I realized it was a pretty good study of one of the many custom Mid Century Modern Homes In Downtown Las Vegas.
In the first rendition of VeryVintageVegas,(or as we call it, "the old blog"), we documented when this home received a make over last year from the Christmas In April program.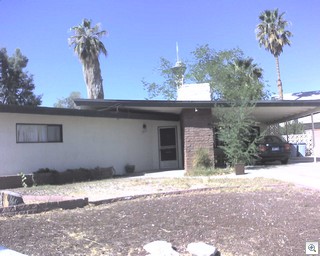 Here's the before and after photos, and you can read about the whole day long makeover on the old blog.
Besides a fresh coat of paint, the home got new landscaping, the roof repaired, the water heater replaced, and all the caulk and grout redone in the bathrooms.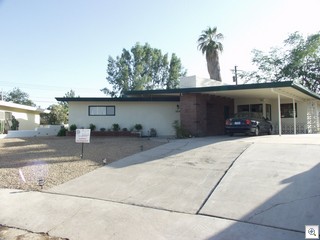 I'd like to sponsor a make over next spring for some deserving Classic Mid Century Modern Home. I'd probably have to do it outside of the Christmas In April Program, because they're about making a nice home for a needy family, instead of being about restoring a classic. There's plenty of classics mid mod homes that could use a make over. If you know of one that's especially deserving, leave a comment or send me an email.