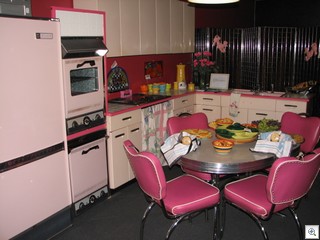 Seems to be lots of new in the "old" department, especially with the opening of "Retro Vegas" and "Lost Vegas" which we mentioned several days ago.
If you're into Vintage or Retro clothing, or furniture or nicknacks and collectables, why not stop around tonight for the grand openings.
DON'T FORGET TO ASK TO BE INTRODUCED TO "ZELDA"!
Tell them that Uncle Jack said so.
My former pink and chrome dinette set looks terrific at Retro Vegas. They've got all kinds of great things there, and they take consignments if you've got something really cool sitting around that someone else could put to better use.
Retro Vegas is at 1211 S. Main Street. Normal business hours will be from 11–6 Monday thru Saturday. Closed Sundays. TONIGHT FOR FIRST FRIDAY and their Grand Opening 6–10pm
Lost Vegas is in the Arts Factory at Main And Charleston. Tonights hours are 6–10pm.
Over at the FIRST FRIDAY street fair, on Casino Center at Colorado, you'll find a much expanded group of artist tents, live music all night on the stage, and lots of good eating.
For a complete list of First Friday In the Downtown Las Vegas Arts District, here's their map and list of events