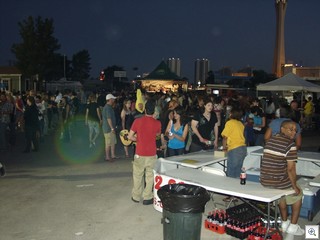 With gorgeous springtime weather, the crowds at First Friday were huge.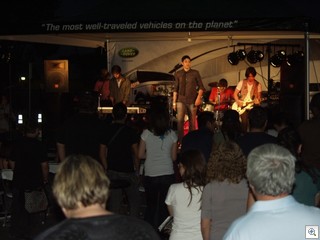 Live music on the Land Rover Stage at First Friday.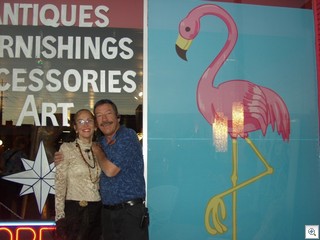 I handed off the camera to someone so that I could get my picture taken. Almost every picture you've ever seen on VVV was taken by me, and because I've always got the camera, I rarely get my picture taken.
That's me and Mary Joy Alderman, the fashionista of VVV.
The Pink Flamingos in the windows of Retro Vegas make it hard to miss.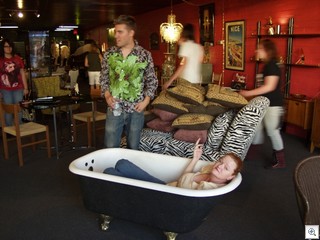 Crowds and sales at the grand opening of "Retro Vegas more than exceeded expectations for Ben, Matt, Bill and Mark.
Ben, on the left, who's the most obsessive of collectors and a 2nd generation antique dealer was heard to say "Oh my God, they're buying all my stuff".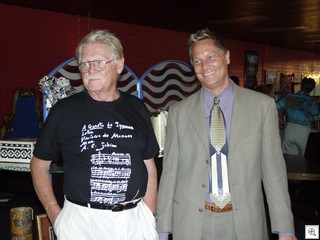 We ran into the godfather of Historic Preservation In Las Vegas.
Dr. Lonnie Hammargren on the left with his son, and my friend Karl, who's an interior designer at Walker Furniture.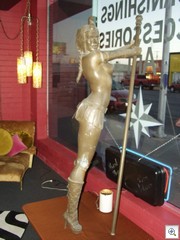 I'm thrilled to report that at least a 1/2 dozen of you stopped in to Retro Vegas and specifically asked to be "introduced to Zelda"
Zelda once stood guard at the corporate main office of Mandalay Bay, and I was instrumental in helping Ben Nation acquire her for his personal collection.
She's not for sale, but makes an elegant security guard for his new store at 1211 S. Main Street.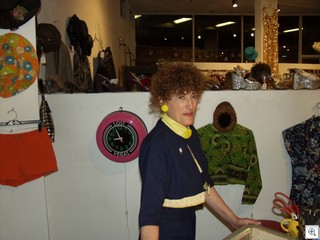 Diane Bush's new vintage clothing store "Lost Vegas" which is in the Arts Factory was a huge success.
Diane, dressed to the 9's, as usual, was more than surprised at how well received, and how much of her wonderful vintage clothing collection found a new home.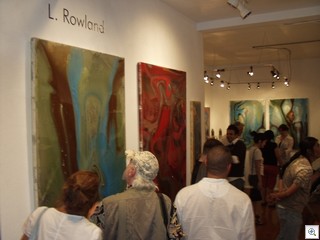 Leslie Rowland now has her own space at the Arts Factory after years of sharing with other artists.
IF YOU'VE NEVER ATTENDED FIRST FRIDAY, GO PUT IT ON YOUR CALENDAR.

IT'S EASY TO REMEMBER. IT'S THE FIRST FRIDAY OF EACH MONTH IN THE ARTS DISTRICT OF DOWNTOWN LAS VEGAS.