I hope everyone had a great holiday weekend.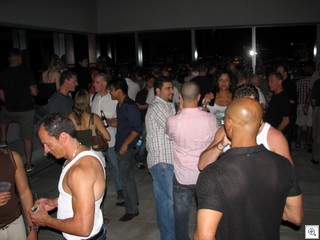 I'm especially gratified that I ran into so many of you at First Friday and about 40 readers of VVV attended the Nevada Aids Project Fundraiser at the top of World Market Center. There were about 500 total attendees, and lots of money was raised.
Donations are still welcome if your budget allows.
If you're decorating your house, Suite Charity is a furniture and accessory outlet in the World Market Center that is operated as a year round fundraiser for the Nevada Aids Project. Manufacturers from around the world donate showroom pieces that they don't want to have to ship back to their warehouses. Prices are remarkably cheap for fabulous home furnishings.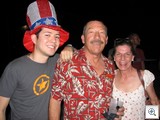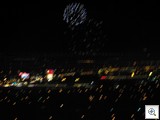 None of my fireworks pictures came out very well, unfortunately. The penthouse patio is open air, but it's walled in with picture windows all around, which didn't allow for great pictures. Here's the best shot.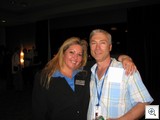 Dennis Dunn, the founder and Chairman of NAP says that we'll be doing it again next year, and I hope more of you will attend. It was totally awesome to be able to see that many fireworks displays from a vantage point several hundred feet above street level.
I round-aboutly helped to create NAP. After Dennis moved to LV from San Diego, and was settled into his fabulous new downtown home, he told me that he was bored in his young retirement. I suggested he that he join some clubs, or charities or start one of his own. Nevada Aids Project was born out of that conversation. The suggestion holds true for ALL of you as well. Get involved!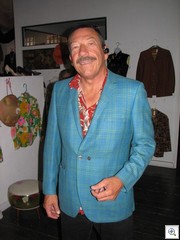 I only got to attend about an hour of First Friday before dashing off to the fundraiser, but we did stop in at the arts factory and Retro Vegas and Lost Vegas, where I found a terrific 50's jacket with square buttons. Fortunately this is the last time it will be seen with a red flowered Hawaiian shirt.
If you'll remember last week I told you the story of Dean Martin's cousins house coming to market. The agent told me that someone showed up at the estate sale and bought all of the furniture, but that he didn't know who it was. When we got to Retro Vegas, there were signs on some really great pieces that read "From Dean Martin's Cousin's Home". Mystery solved.