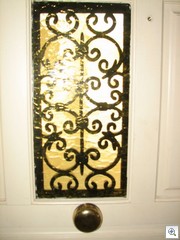 Doors don't have to be solid! This bank owned repo has a frosted glass insert with a Iron grate over the top of it. What's really fun is the brass door bell mounted in the middle of the door. It's a mechanical bell that extends thru the door to a small crank handle on the outside. It's still working and sounds like a bicycle bell from our childhoods.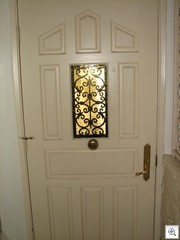 The door itself is raised panel, but the top row is very unique in it's design.
The door hardware is also very old world and charming.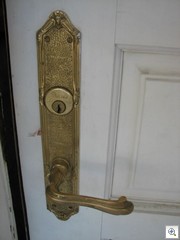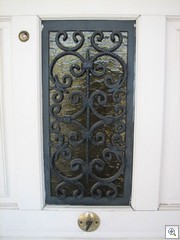 The house is in need of a lot of TLC, but it's just chock full of some very fun fixtures. Yesterday I showed you the wrought iron globe lights in the patio. The RJ reported yesterday that 65% of the homes that sold in June were bank owned foreclosures. Most of them will need some work – or a lot– but there's some very interesting homes and a lot of really cool fixtures hiding among them.