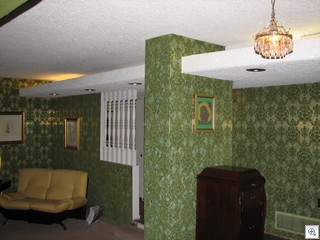 A very fun debate the other night at the Flamingo Club Cocktail Party.
We were at Downtown Steve's house in Beverly Green. It's a recurring monthly cocktail party at a different home each month. It's the official meet and greet your neighbors that helps to make the Beverly Green Neighborhood Association so successful.
Anyway, Steve's got a terrific Mid Mod ranch with all kinds of cool vintage features including the "floating soffit", or is it a "hanging uplight thingy" or a "flying ???" Carl and Lorraine, who bought our mid mod listing on 14th Street have a similar feature under their beamed ceilings. Two of the homes on my street have it. Two of the floor plans in Paradise Palms has it prominently featured as well. No one at the party, including me or MaryMargaret knows what to call it. If you do, please let us know.  There just has to be a real architectural term for it.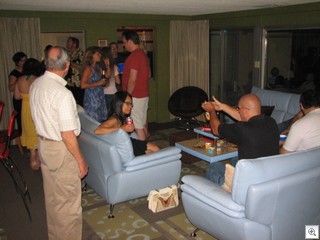 Saturday night's Flamingo Club Party had about 50 people, which was one of the largest turnouts in it's one year history.
One of the most striking things was the diversity of the neighborhood. Young and old, newcomers and original owners, gay and straight, married and single, but almost entirely liberal/progressive, and almost everyone is trying to be as "green" as they can be.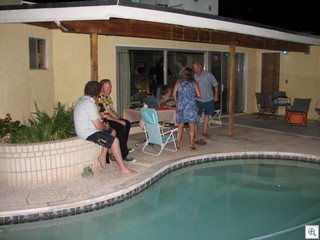 Lots of REAL conversation about politics, architecture, historic preservation, neighborhood improvement, the economy as well as the ubiquitous what do you do, where are you from and who do you know and what are you doing to your home.
Why not start a similar group for YOUR Vintage Vegas Neighborhood.  All it takes is one person to get it going.