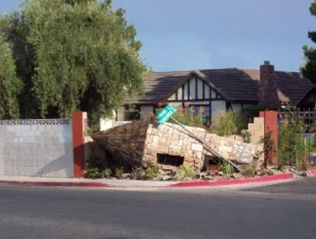 I received several reports over the weekend that the entry gate tower at Forest Hills got smashed up.
At first no one knew how or when, and we thought it had to have been malicious vandalism, but it turned out that that the culprit was the Republic Services trash truck, in a a game of chicken with the pool cleaning service truck. Both have insurance and it will get rebuilt.
Of course, Murphy had to show up this weekend, since I'm leaving right now to go do the inspection for the Liberace Townhouse in Forest Hills. It went to contract last week.
If YOU see anything that I should know about or that needs to be researched or that might make a good post…..don't hesitate to call, email or send a picture.