There's a custom cluster just east of Maryland Parkway off of Oakey. I talk about it a lot, as it's one of my absolute favorite areas of Vintage Vegas. There's actually several neighborhoods clustered together that include Marycrest, Crestview, Morning View Heights, Becke Circle, Maria Elena Circle, and Concordia Circle.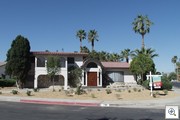 There's only 7 homes for sale in the entire pocket. Our listing on 15th street is under contract, and so is the huge mid mod on Maria Elena. But among the 7 that are for sale, my listing on the corner of Chapman and Oakey certainly stands out and deserves more attention.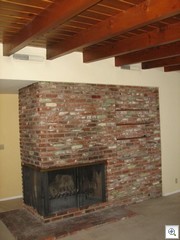 There's another one, however, that's only $205,000 that's caught my eye.
One of you ought to grab this up while you can. It's actually a modestly sized home for the area at 1550sf. It's very original with a wood beamed ceilings, an excellent 2 sided brick fireplace in the living room as well as original 1956 bathrooms and kitchen.
It's built over a crawlspace, so there might be hardwood floors under the carpet. The hardwood floors in the bedrooms seem to be real.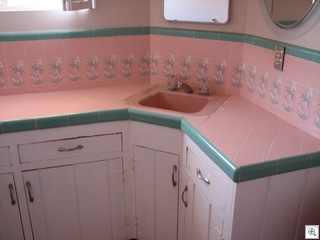 There's very little for sale that falls into the normal category of "nice house at a great price". Most of the would be sellers who have owned and loved and taken care of their homes for years are waiting things out. This is true in every part of Vintage Vegas.
When we find one that's for sale and priced to sell, then it deserves to be considered.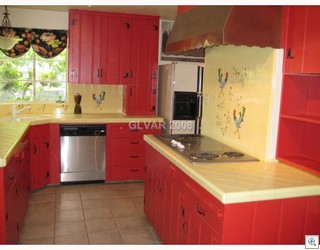 It's been fun showing and selling the beat up crappy foreclosures, but it's much more fun to find an all original, well loved home.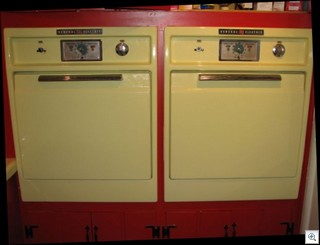 And my compliments and thanks to the listing agent Diann Tonneson of Americana Group for allowing me to blog this for you, and for publishing excellent pictures in the MLS.