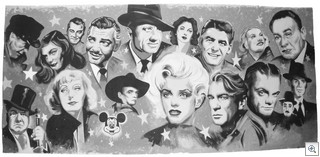 Kathleen Bell has a mural that she inherited from her father, Charles Bell, who aquired it in the 60's or early 70's. He always said that it came from one of the early strip casinos, but no one ever pressed him for more detail.  
Kathleen's trying to find out the artist, the history or anything she can about it. It's about 3.5' x 6' and might have been part of a larger set of two or three panels.
If any of you old timers or Las Vegas Lifers, have any memory or recollection of where this came from, you can leave a comment, or email me and we'll make sure to get your clue to the right people.  
Of course, I recognize many of the faces, can name about 1/2 of them and am clueless about the rest. Anyone able to name them all? If you can, please use the comments to do it. One of you must be a real movie buff.
There's bigger versions below the fold if you want to see more of the pictures or leave a comment.
Photos were taken by Joel Morales of LeavingLV.net
---