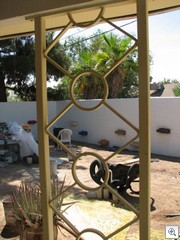 I can ask that question about a couple of dozen different things, but for today, the question is about what's holding up our patio covers and carports and awnings.
I've been collecting pictures of really great support pieces in preparation for a new series that we'll be starting next week. Some of the support columns are wood, some are brick, and my favorite ones are wrought iron with great designs.
Some of them came from front yards, and some of them from houses I've shown where I got into the back yards, and most of the ones I want to share with you I haven't seen yet.
That's why I'm inviting any of you who have a unique design or style from your patio cover or awning or carport to SEND ME A PICTURE so that it can be included in the series.
The one pictured here is from my own patio cover, and it was one of the many little design elements that I fell in love with when I first saw my home. You also get to see a little sneak peak of the the color coat painting in process for the newly installed "popout" shadow blocks that we've been putting into the block wall.
If you've got a great design hiding in your yard, WE'D LOVE TO SEE IT! Send me a picture, or invite me over to take pictures for you. Either way, I'm sure there's lots of hidden design treasures lurking behind your homes.
In fact, it doesn't have to be on your home. It could be at a neighbors, or on a commercial building or just about anywhere else. Let's see it!
PS: Painted 4×4's don't count.