It may have been a short trip, but we certainly packed a lot in. Of course, business never stops and we negotiated a deal and am opening escrow on the new Papago listing in Paradise Palms, and on Friday we closed the 15th street deal. Hard to believe that 15 years ago I was selling real estate without a cell phone, text messaging, or email.
I'm just going to give you a little introduction, and each of these pictures has a whole story behind it. I'll use them as a starting point and give you details thru the week.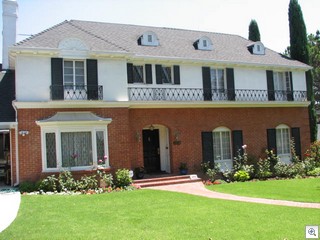 My mother stayed at this 1937 Colonial in Los Feliz, which is where Mazie and Eddie live. Mazie is her best friend since they were 3 years old. They lived back to back with an alley in between in Columbus Ohio.
My mother is turning 80, which was the purpose of the trip, doing the math, we find they've been friends since 1931.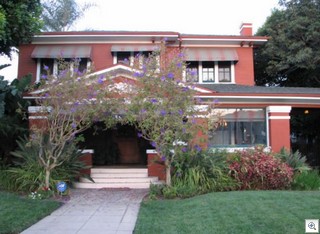 Joey and I stayed in this 1917 Craftsman styled home in Hollywood. My friend Harry and I met in 1978 and are celebrating 30 years of friendship.
One of the many jokes about VeryVintageVegas is that Vintage in Las Vegas is 1950. There's literally NOTHING left of the pre-war style homes in Las Vegas.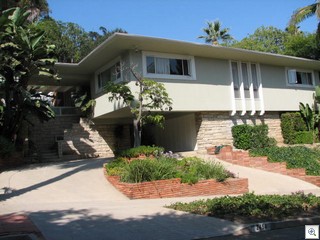 On my own, I discovered the Los Feliz Estates which is an amazing mid century modern neighborhood at the base of the Hollywood Hills. Griffith Park and the famous Hollywood sign are up above them. Erin and Rachel texted me during the weekend to tell me to make sure to find LFE, but I beat them to it.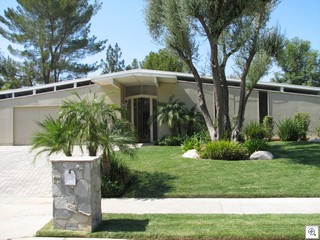 MaryMargaret gave me directions to one of the famous Eichler Neighborhoods of California. The contrasts and parallels to Paradise Palms are striking.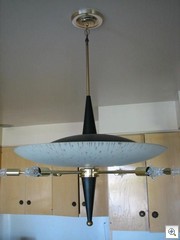 Leslie and Aaron who had asked us last month to tell them what to see in the way of Mid Mod in Las Vegas were kind enough to have us over with extreme short notice.
You'll just love what I tell you about their home when I do the full post about it later this week.
This is just a little taste of it, but let me tell you there's an amazing Mid Mod wrapped around this little gem.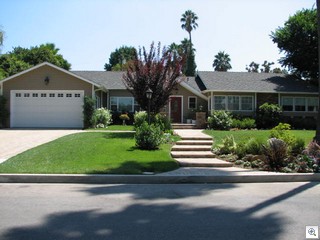 Our last stop out of town was to visit my mother's friend Alice. She left Las Vegas about 4 years ago to live with her daughter in the San Fernando Valley. I found that they live in an entire neighborhood of Cinderella Ranches (though they don't seem to use that term) similar to Bel Air, except that they're all on 1/2 acre lots.
I've got a lot to tell you about, but I've got even more work to do today, so I'll blog more about my trip all week.