The Pillars And Posts Of Vintage Vegas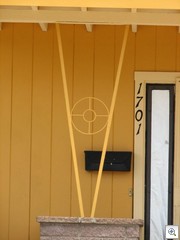 I'd mentioned last week that we're starting a new series about the posts and columns that hold up our patios and porches and carports.
I'm sure there's lots of great post and pillars in the backyards of Vintage Vegas as well. If you know of a great one, I invite you to email me a picture or tell me where to find it.
Here's number 2 in the series. It's from the boldly colored mid mod on the corner of Oakey and 8th Place.