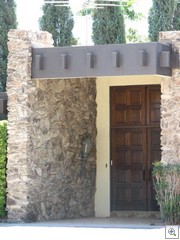 Today's "pillars, posts, and columns" article takes us into the guard gated Rancho Bel Air. It's one of the 5 guard gated neighborhoods of Vintage Vegas. They're hard to get into, so most of the general public never gets a chance to take a Sunday Drive thru them. Rancho Bel Air in particular is wildly diverse in the architectural styles, designs and eras. The earliest homes were built in the 60's and there's a brand new one for sale at the moment.
I took the opportunity the other day to grab you some shots that will show the wide variety of custom architecture, with a special emphasis on the the posts and columns.
Our first photo is one of the Mid Century Modern classics. The natural stone support walls hold up the porch cover with it's protruding beam facia boards.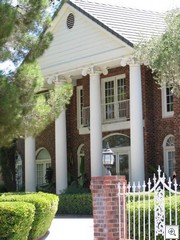 Colonial is a recurring theme in Rancho Bel Air. Bold and repetitive 2 story columns of wood, create a an elegance rarely seen in Las Vegas.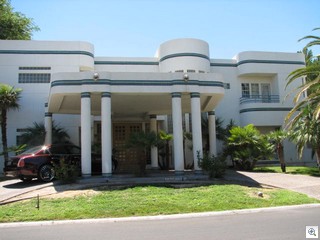 At the other extreme, there's several "Miami vice" contemporaries with plastered columns and matching inlaid of the blue ceramic that borders the home.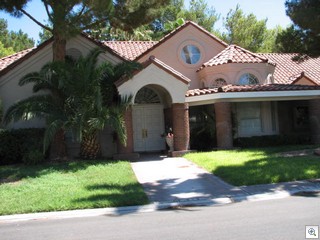 Mediterranean is abundant also. I love the round brick columns used in the entry porch on this one.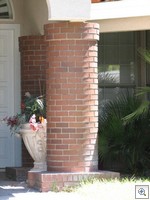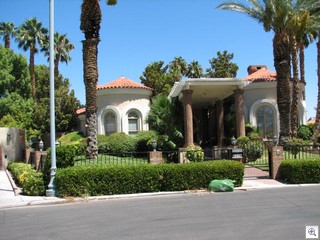 And we've also got round brick column on one of my favorite castles in all of Las Vegas.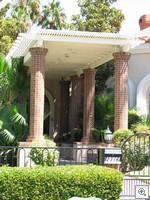 Rancho Bel Air is just south of the Rancho exit of the 95 Freeway, on the west side of Rancho. There's currently 9 homes for sale, ranging from 650,000 to a million eight. If you use the MLS search feature found in the top navigation bar of VeryVintageVegas, you can plug in a neighborhood name and easily find all of the property for sale.
There's several other posts we've done in the past about Rancho Bel Air, which will show you some more of the achitectural variety to be found there. (NOTE: If you click on the link to the other posts, you'll get this one first, but just scroll down to the the previous ones)
In case you're curious, the 5 guard gated communities of Vintage Vegas are Rancho Bel Air, Rancho Circle, Rancho Nevada, Spanish Oaks and The Las Vegas Country Club.