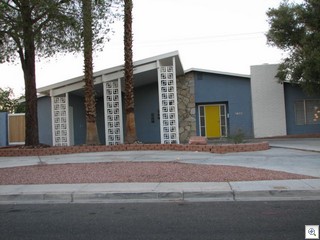 Besides that I love colorful eye popping colors on mid century modern homes, you know how I feel about the decorative concrete blocks.
There's 3 of this model that still have the original carport design on Golden Arrow Drive in Paradise Palms. There's others scattered around but they're hard to find because the carports have been converted into garages, and the columns of block have been removed or obscured.
One of the many goals of VeryVintageVegas is to help preserve the original designs or at least the original intent of the architecture. Many many too many of our great homes have been changed and adulterated or abominated. The more of you I can get of all of you to be aware of the architecture, the designs and the elements, the better chance we have of preserving them. Â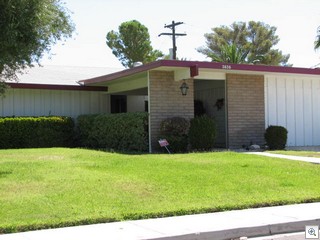 The next time you take a Sunday Drive, try tooling around one of my favorite Vintage 60's neighborhoods. You'll find lots of eye candy such as these. You'll also see what I mean about homes that have been "remuddled".
Paradise Palms is both sides of Desert Inn between Maryland Parkway and Eastern. This pattern is in the part that's north of Desert Inn Road. There's 2 segments of Paradise Palms to the south of Desert Inn. East of Spencer and the power lines are the higher end homes surrounding the National Golf Course. To the west of Spencer Ave. are the middle grade homes. Mostly they're on 10,000 foot lots. Many are classic modernism, and many are ranch style modern.
There's currently 30 homes for sale in Paradise Palms. At the moment, they range from  $149k to $525,000. Of the 30, 6 are bank owned and 6 are short sales. There's 9 homes under contract, for a healthier than average 30% ratio of pendings to availables.