I wish I was a better note taker. Especially when it's a subject I've never studied, and is full of names that I don't know. The whole mob scene was at its end just as I was arriving in Las Vegas. Twice, the subject of where the mobsters lived came up briefly. During the question and answer segment, I asked for more, and was told that Cory Levitan had a map that was published in a Review Journal Article a couple of years ago.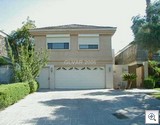 Someone from the audience yelled out "we live in Lefty Rosenthal's house!" I met Jeff and Sheri after the presentation. It turns out they're regular readers here at VVV, and that's how they found out about the event. I've been invited to come over after they finish some current renovations. They bought it in 2003, and showed me a copy of a magazine where pictures of it were published. I did find the old MLS listing from 2003 and I share it with you at this link.
There's only a few residences mentioned in the RJ article, and it's mostly the address and sites of various hits and events that were of importance. From the discussion last night, and the article, I've learned that "the boys" basically lived where everyone else did. Some of our favorite neighborhoods are mentioned including Heritage Square South, Sunrise Villas, Las Vegas Country Club.
Many of the events that were discussed last night appear in the article and on the map. The Rosenthal home is #10. It highlights many of the points that were discussed last night about what was fact and what was fiction in such movies as "Casino" and "The Godfather Part 2 and 3".
10. Former Rosenthal home

972 Vegas Valley Drive

The site of an argument during which Frank Rosenthal claimed his wife, Geri (who was suspected of having an affair with Tony Spilotro), tried to shoot him on Sept. 8, 1980. Shortly afterward, Frank Rosenthal said, police accompanied Geri to the First National Bank (formerly at 2780 Las Vegas Blvd. South), where she emptied three safety deposit boxes of documents, $150,000 in cash and $1 million in jewelry and left town. (If these events ring familiar, you saw them re-created by Sharon Stone and Robert De Niro in "Casino.")
If you want to learn more, just google "mafia Las Vegas" and you'll have plenty to read for the next few hours. But don't take as gospel everything you find! The problem with doing that, is that many of the popular myths and folklore stories that they attempted to de-bunk last night are repeated throughout all the reading material.