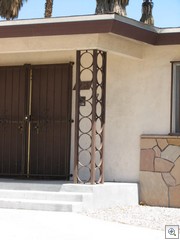 One of my many favorite pieces of iron work that I've found scattered in the retro neighborhoods of Las Vegas is this stack of circles at the corner of Oakey and Houssels in the John S. Park Historic Neighborhood.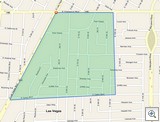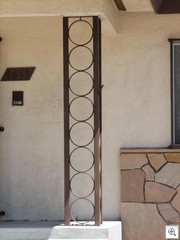 There's actually 6 separate subdivisions that together comprise the John S. Park Historic Neighborhood.
They can be found on the south side of Charleston between Las Vegas Blvd and 10th Street. Desert Park, Radlick Park, Vega Verde, Park Place, Park Manor, as well as a cluster of customs that don't have a subdivision name.
Even I forget to use the smaller subdivision names, but I don't want them to get lost to the bigger picture of John S. Park, so I'm putting them out there again.
There's only 4 homes for sale at the moment. 2 of them are bank owned. There's a point that I'm going to be making later this week, that there's actually a SHORTAGE of nice well loved classic and retro homes for sale in the historic neighborhoods of Las Vegas.