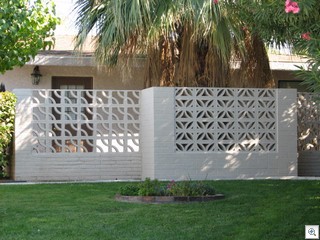 I'm astounded, but it seems I missed a couple of patterns back in our series of the 50 different patterns. I found this on a relatively obscure cul-de-sac in Paradise Palms. It's not original to the home and seems to be an extension of the sunscreen that was there from the get go.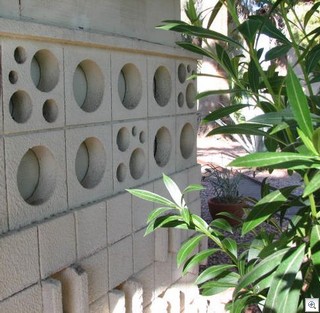 The other pattern is merely a block with a single large hole in it. It's also from Paradise Palms, but this one, mixed in with the champaign bubbles pattern as well as pop out shadow blocks is particularly stunning, though it's hidden behind a very big oleander.
I happened to make a u-turn in front of the house yesterday and caught a glimpse of it from an unusual angle, which is why I hadn't seen it before.
The concrete block decorative sunscreen patterns were used extensively in the 50's and 60's. They're in almost every one of the neighborhoods that we cover regularly. A good rule of thumb, is that when you run stop seeing the decorative concrete block sunscreens, you're not in Vintage Vegas anymore.
If you're new to Vintage Vegas and want to see the entire series, all you have to do is click here.
Tonight is the COMMUNITY MEETING about the NATIONAL GOLF COURSE and their plans to file a parcel map as a prelude to turning the golf course into a 600 +– home housing tract.
6:30pm at the Cambridge Community Center. Click here to read the whole story that we posted last week.