Becket Festival
The 6th Annual Samuel Beckett Festival October 15th to November 15th
Ernest Hemmings, the downtown Las Vegas playwrite (who also started the First Saturday Bicycle Bar Hop) told me the other night that the new venue in the old Mission Laundry Building will be unlike any other performance space that any of us have ever seen.
Las Vegas in Postcards: 1905–1965
Lynn Zook had sworn me to secrecy all summer about the book that she and Alan Sandquist the photographer have been working on that tells the story of early Las Vegas with postcards. Since she announced it yesterday on the Classic Las Vegas Blog, the cat's out of the bag.
Classic Las Vegas should be one of the other must read Las Vegas Blogs on your list.
Performing Arts Theater at Neonopolis?
I've heard a rumor that they're turning 3 of the theaters at Neonopolis into performing arts space. I haven't had a chance to confirm it. Anyone know more?
Graffiti Artists Seek Sponsors
The extremely talented graffiti ARTISTS who helped create the "Beneath the Neon – The Exhibition" that ran during the summer at CAC are looking for sponsors. The 60 foot Mural that they recently created on the side of the Rainbow Feather Company on Main Street ironically got vandalized. We're also wanting to help them create a mural "live" at the next First Friday.
We're helping them because we recognize Graffiti art as a truly misunderstood art form. We're not talking about gang tagging and WE DEFINATELY OPPOSE IT WHEN IT'S VANDALISM. If we can provide these kids with legitimate space, help them to organize and keep them out of the dangerous sewer tunnels, and keep them form vandalizing public or private property, then we we can help add some color and creativity to the boring blank walls of Las Vegas.
If you want to help, then give me a call or send me an email.
Enchanted Florist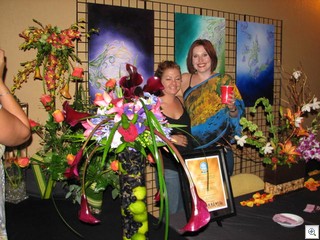 Besides having a wonderfully creative name, the floral designs that were being shown by Enchanted Florists at First Friday were amazing.
I forgot that I had promised them a plug when we met.