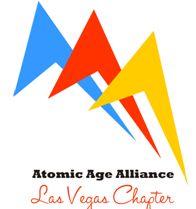 I'm hoping lots of you will want to get involved with an organization that's dedicated to preserving Mid Century Modern Architecture and Design.
Tonight's the first meeting of the new fall schedule, and we invite you to come out and meet some really great people.
However, THERE HAS BEEN A LAST MINUTE CHANGE IN THE LOCATION!
The new location for tonight's meeting will be at a pre-renovation home in Paradise Palms:
1536 Commanche in Paradise Palms
7–7:30 meet and greet
7:30 The Meeting
Below is the announcement of the meeting, and the upcoming October 5 tour of Mid Century Modern homes in Paradise Palms.
We hope you'll make it!
Celebrating Mid-Century Design and Architecture
We are Back from Summer Vacation!!!

LAS VEGAS CHAPTER SEPT. MEETING
Monday, September 15th
Meet and Greet 7:00
Meeting from 7:30-9:00
In order to facilitate our tour planning – we will be meeting at the first house on our Paradise Palms home tour, a pre-restoration 1964 ranch style home.
1536 Commanche, Las Vegas, NV 89169
http://www.lottaliving.com/bb/viewtopic.php?t=13002
Paradise Palms Open House Tour!!!
The First Las Vegas "Paradise Palms" Open House tour will take place on Sunday, October 5.
http://www.lottaliving.com/bb/viewtopic.php?t=13001
This first tour of its kind will feature five Palmer and Krisel designed Paradise Palms homes, from pre-restoration, to mid-restoration to completed restored examples of these outstanding Mid Century Modern homes of Las Vegas. The tour also will bring attention to the ongoing efforts to preserve the Las Vegas National Golf Course. http://savethecourse.com/
Homes will be open from 11AM to 2PM with additional real estate open houses until the afternoon.
* If you are a real estate agent and would like your Mid Century Modern listing in the area to be included on our tour map, please contact us asap.
* We also appreciate donations of printing and refreshments for our tour volunteers and participants.
This tour is free and open all fans of Las Vegas architecture, but requires check-in with the Atomic Age Alliance on the day of the tour.
The tour is produced by Atomic Age Alliance and supported in part by Very Vintage Vegas https://www.veryvintagevegas.com
Paradise Palms is a Mid Century Modern housing tract in Las Vegas, Nevada. In the 1960s Molasky Development hired the young architectural firm of Palmer and Krisel fresh from their success building hundreds of successful tract homes for Alexander Homes and other custom projects in Palm Springs, California.
"This unique subdivision was the first planned community in Clark County. We used curvilinear street patterns instead of rectilinear. Paradise Palms won the American Builder magazine award for one of the best planned communities in the U.S. "The architects were two young men by the names of Palmer and Krisel. The interior designs were by world renowned C. Tony Pereira." Irwin A. Molasky
United across the miles, we have a stronger voice
for the preservation of our Mid 20th Century heritage!
The Atomic Age Alliance is a volunteer organization dedicated to celebrating historic Mid Century Modernism and Atomic Age design, signage, architecture, culture and business through ongoing community advocacy, activism and educational programs.
We have alliances with the Los Angeles Conservancy Modern Committee, Palm Springs Preservation Foundation and Modern Committee, Classic Las Vegas, Recent Past Preservation Network, Doo Wop Preservation League, Kansas City Modern Committee, and Portland Modern Committee
Join Globally – Act Locally.
http://www.atomicage.org http://www.myspace.com/atomicage
Visit our Message Board hosted by LottaLiving and connect with Modern enthusiasts from all across North America! http://www.lottaliving.com/bb