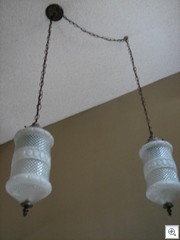 I found these pendant lamps in the stairway of a bank owned foreclosure in Braewood Heritage.
Braewood Heritage and Heritage Square South are two of my favorite communities in "Townhouse Row".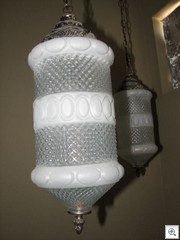 Besides Braewood and Heritage Square, there's also the 10 Sunrise Villas Communities, Forest Hills, Garden Park, Villa Hermosa, and a few others that definately part of the Vintage Vegas world. They're all popular with people who want a lot of room, lower prices than single family homes, and don't want to have to deal with landscaping or pool maintainence.
There's dozens and dozens of bank owned foreclosure townhomes available from as little as 80,000 to around 300,000. There's also a lot of very well loved, and properly maintained ones that are now at prices we haven't seen since 2004.
"Townhouse Row" is approximately South of Desert Inn down to Flamingo, and from Eastern Avenue out to the 95 Freeway.