The Other Half Of The Paradise Palms Mid Century Modern Bank Foreclosure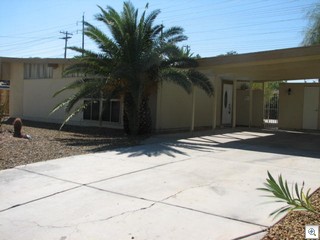 Yesterday's worst MLS photo showed us one of the Palmer and Krisel designed mid mods in Paradise Palms. I routinely try to at least go see them, if not show them to prospective buyers. The rest of the home features the gull wing carport, storage and front door entry under the covered walk way.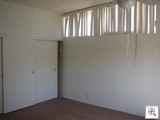 This was the smallest of the models that was built, at 1236 sf, and I'm happy to report that it's the original footprint. It hasn't had any room additions. No Carport conversions. All 3 bedrooms are still bedrooms. The original kitchen and baths are there, AND they're redeemable and salvagable. The clerestory and floor to ceiling windows haven't been removed, drywalled over, painted over or any of the other horrible things that uneducated people do to them.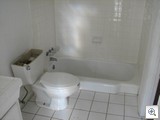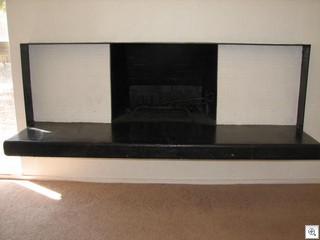 The highlight though is the original floating hearth fireplace with the 1 inch ceramic tiles on the face. A good cleaning and regrout will make them look new again.
The hearth itself is a concrete ledge that had steel reinforcements set into the wall. It's surrounded by a steel shadow box, and the ceramic tile is inset on both sides of the fire chamber.
This home is bank owned, and listed at $110,000. If you've been thinking of a rental or a starter home for yourself, give me a call. A little love will turn this back into a killer mid mod!