This is really a "fun features found in foreclosures" post.
This is a very restorable mid century modern home in Vintage Las Vegas. It's a "desert modern" and one of the few in McNeil. Mostly McNeil is a neighborhood of "Ranch Modern".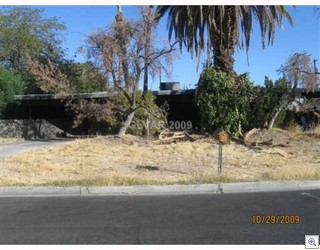 McNeil was and is a middle class custom home neighborhood between Charleston and Oakey on the north and south and to the west of Rancho.
Hidden away behind all the over grown trees and shrubs, and the curved lava rock wall under the porte cochere is a really cool mid mod house.
This Mid Mod In Las Vegas is definitely a project house! It's in one of the 3 cul-de-sacs of McNeil that can only be accessed going west off of Rancho Drive. They're the first 3 streets off of Rancho to the north of Oakey Drive.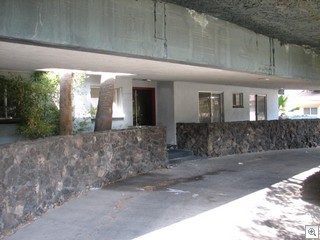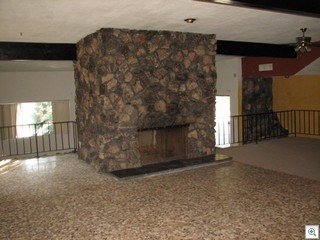 The listing pictures kind of miss the best part of the house which is the towering rock fireplace that looms over the 3 foot deep sunken living room.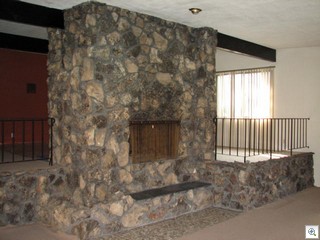 The house has beamed ceilings, huge rooms, and plenty of mid mod flair to work with. It's bank owned and priced at 235,700, and will require a healthy bank account to get it fixed up to it's former glory.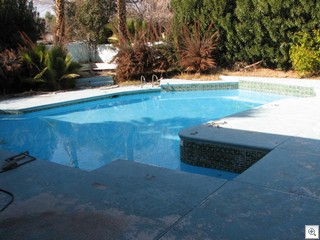 The back yard landscape and pool seem to be salvageable but could definitely use some love from a new owner. The lot is a 1/3 acre – 12800 sf.
Currently, there are only 8 properties for sale in all of McNeil! They range from 180,000 to 420,000. This is the lowest inventory of available I've seen since the market peaks of '05 and '06.
Two of them are shortsales, this one we featuring today is the only bank owned one, and the other five are equity (or normal) sellers.