THIS SUNDAY OCTOBER 5th 2008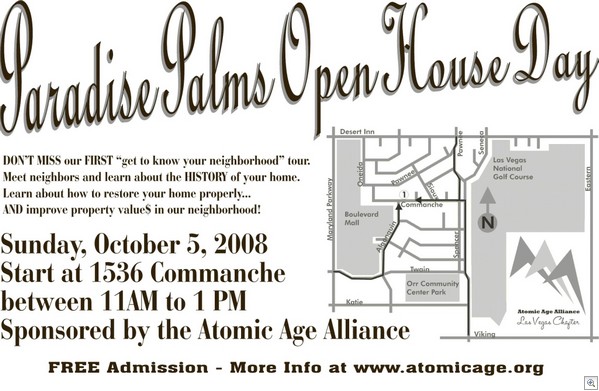 FIRST HISTORIC MODERN HOME TOUR IN LAS VEGAS
Paradise Palms is the Undiscovered Treasure of Clark County
Atomic Age Alliance is proud to present the first tour of its kind in Las Vegas, the self-driving tour "Paradise Palms Open House Day," on Sunday, October 5, 2008.
Paradise Palms is a historic Mid Century Modern neighborhood built by Irwin Molasky Homes and the architectural team of Daniel Palmer and William (Bill) Krisel of Palmer & Krisel from the early 1960s through the early 1970s. This particular tract was the first planned community in Las Vegas. It won the American Builder Magazine Award for being one of the best planned communities in the U.S. The neighborhood is growing as a Mid-Mod preservationist Mecca in terms of restorable P&K homes still at relatively affordable prices. While other communities such as Scottsdale, AZ and Los Angeles and the Bay Area, CA, have embraced Modernism and make money from it, Las Vegas has been slow to catch on. Ten years ago in Palm Springs, CA, Palmer & Krisel homes went for 100-200k. Now properly restored MidMod "P&K" homes sell from 400-800k and more… A brand new custom Mod home by Bill Krisel recently sold for over one million. The tour hopes to open eyes to this undiscovered treasure that lies right in the heart of Las Vegas.
The Atomic Age Alliance is a 501(c)3 non profit organization dedicated to celebrating historic Mid Century Modernism and Atomic Age design, signage, architecture, culture and business through ongoing community advocacy, activism and educational programs.
Mid-Century Modern (MCM) is a period in the middle of the 20th Century where architectural design reached a peak in terms of aesthetics, engineering and exuberance. The dates are 1945 to 1965, although the era is sometimes extended to the 1930s through the 1970s. Because it centers on the period after World War II it is also known as Post War. The term may also be shortened as Mid-Mod.
The homes of Paradise Palms feature unique Modern rooflines, floating cantilevered fireplaces, open floor plans, sunken tubs, decorative stone screens, post and beam construction, two-tone paint, idiosyncratic decorative elements, spun fiberglass panels, walls of glass, clerestory windows, and quintessential desert indoor/outdoor living.
Paradise Palms began in 1961 as the neighborhood surrounding the Las Vegas National Golf Club. The course has enjoyed an illustrious past beginning as the Stardust Country Club designed by Bert Stamps in 1961. Arnold Palmer set the course record of 63 in 1967 and held that record for 28 years. Over the years it has hosted LPGA Championship Events and PGA Tournament of Champions. However the current owners have announced plans to replace the course with hundred of homes despite their claim on their own website (www.lasvegasnational.com), "The Las Vegas National Golf Club is a true Las Vegas landmark… Steeped in a rich history and tradition." It now has community wide support of keeping the course as a course. (www.savethecourse.com)
Fifteen homes are shown as examples of original or restorable condition and five private homes are open to tour attendees. Additionally some real estate agents with homes for sale in the neighborhood will have open houses this same day. The tour is free and open to the public, but onsite registration is required at the first stop of the day.
Please check in at 1536 Commanche Drive just off Spencer drive in the heart of Paradise Palms between 11AM and 1PM. Last house closes at 2PM.
WHEN: OCTOBER 5, 2008, Sunday
CHECK-IN 11AM to 1PM
MORE INFO: info AT atomicage.org
www.atomicage.org