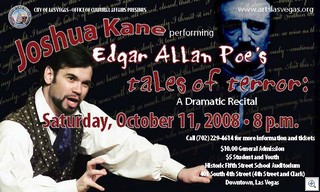 I get email announcements about lots of things, and try to pass them along to you as often as possible. This only came today, and the event is tomorrow.
The Historic 5th Street School is a huge addition the cultural life of Downtown Las Vegas. I believe it's the first performance event to be held there, and if you're getting geared up for Halloween, and looking for some Saturday Evening Culture….
City Life Magazine did a piece last week that quoted me. I was asked to comment on the Gay influence on the regentrification of the historic neighborhoods. I was quoted accurately, but the whole over-all piece seems to suggest that it's something new instead of something that happened 5 or more years ago.
Ten years ago, I was describing the historic neighborhoods as "run down, unloved, and desperately in need of new blood to get them revitalized. The gay guys were the first people who I was able to talk into moving back to the urban core. Things started happening slowing, and improved to the point that about 5 years ago, I started to notice a shift. I was selling homes to artists and musicians as well. There were some UNLV professors starting to buy in. And the gays kept coming too. And then we started seeing some new lawyers and professionals show up. Some of the lawyers were also writers. Some of the professors were also artists. Some of the artists were also casino workers. Ethnically, it's totally mixed up. Everyone is something, and no one pays any mind whatsoever to race, religion, origin or orientation. Diversity is one of the hallmarks of successful revitalization.
I started blogging, and began to reach an even bigger audience. Suddenly people who were just arriving in Las Vegas had already discovered not only the Blog, but the neighborhoods themselves. The newcomers who contact me want nothing to do with the suburbs. We started to hear from suburban locals who said "I wish I had known—now I'm stuck in soulless suburbia in a house that looks just like the one next door". That's where we are today. From my point of view, the gay thing happened 10 years ago, and is old news.
Anyone who reads me or has talked to me, or has bought a home recently from me, knows that the historic neighborhoods have taken a step or two backwards as a result of the whole "housing meltdown". They know, and mostly agree with me that the historic neighborhoods will turn back around first, and become truly sought after, "hard to get your hands on" properties. It will happen long before it will happen out in the suburbs. The foreclosure crisis was a suburban thing. The current crisis is a lending problem and it has affected everyone.
The merging of several important trends cannot be ignored. Location for starters, just in terms of commute time to work is playing a big factor. The emergence of a "creative class" as Richard Florida describes in his various books and articles is not a fad. The creative class wants to live "urban". And finally, there's a massive new love affair with "mid century modern". Almost all the homes in Vintage Vegas are MCM.
Joe Scheinemann reports in today's Sun about competing proposals for the old Sears Store on Fremont Street. Union Park is a reality, though economic conditions may affect the timing. The Southern Nevada Museum of Fine Art and the Southern Nevada Center for the Arts will provide dozens of artist work spaces in Neonopolis.
Urban living is about culture, art, design, and community diversity as a lifestyle. The Art Scene is really happening. The music scene is really happening. There's buzz about the neighborhoods and about urban living. The economy has everything up in the air, and everyone being cautious right now, but the desire, interest and momentum is still there. I'm selling houses. People who can get loans are buying them.
And if all else fails, there's always Womens ROLLER DERBY!