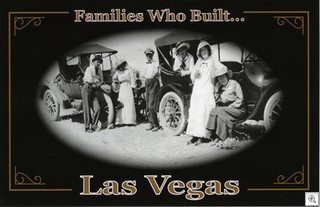 Ever curious about the early days of Las Vegas? Ever wonder how they carved a city out of the desert? Want to know how a small railroad town became the Entertainment Capital of the World? Or just curious about little known stories?
Then join us for "The Families Who Built Las Vegas" on Wednesday, Oct. 15th at the Nevada State Museum. Our roundtable participants include: Donna and Gail Andress, Mary Carmichael Cashman, Mike Pinjuv and more.
Reception is at 6:00 pm Discussion begins at 7:00 pm
Admission is $3. Nevada State Museum 700 Twin Lakes Drive. The museum is inside Lorenzi Park
Become a Friend of Classic Las Vegas today!
www.classiclasvegas.com (website)
www.classiclasvegas.squarespace.com (blog)