Historic preservation seems to be front and center at VeryVintageVegas for the next few weeks. It's not even an officially dedicated month, as it is in May.
We had the roundtable on Friday, (here's CLV's report, as I haven't written mine yet); Dr. Lonnie's Open House on November 2nd. And a couple of new events to tell you about in the next few paragraphs.
Pop Squires – One Of The Very First Residents Of Las Vegas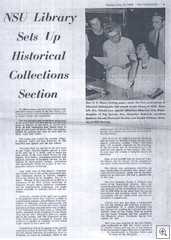 So it turns out that the Pop Squires Collection at UNLV's Special Collections was the very first to be donated in 1967.
Su Kim Chung, the Manuscripts Librarian was kind enough to email me a link that actually shows part of the collection in a digital exhibition. Yesterday, I merely linked to the index, so this is really a special treat for us.
Quoting from the digital exhibit:
Squires, a businessman from Los Angeles, arrived in Las Vegas in February 1905, eager to appraise the promising opportunities that would no doubt ensue during, before and after the great land auction to be held in May of that year. After a harrowing train trip from Los Angeles, he recalled the final approach to Las Vegas:
"with the vastness of the desert made glorious by the morning sun; the
vivid glory of magnificent mountains enclosing the valley on all sides;
…the train bumped slowly along and at last came to a stop near an old
passenger coach on a little spur, on which was nailed a piece of board
on which was painted the magic name "Las Vegas."" (Squires, 268)
Su Kim wrote:

Also, if you have room to post a reminder about our Bugsy Siegel talk on Thursday Oct 23 that would be
great. I hope that you can come. ( we posted it a few weeks ago, and here's the link back to the announcement)

If not, then I hope you can come to our community open house on November 7th — if you have never been
to UNLV Special Collections before, this would be a good time to come as the parking will be easier and
we will have refreshments and other goodies.
The Special Collections Open House invitation extends to all of you, but it is an RSVP occasion.
Steve Evans, The City of Las Vegas Planning Commissioner from Ward 3 also sent a nice thank you and a personal plea for more of us to get involved with trying to save the Pop Squires Home.
I can't thank you enough for putting this out on your web-site!! I'm continuing to contact others who may want to have a voice in this. My hope is that the preservation community, as well as sympathetic organizations/business', will consider written letters of opposition to this application. And, time permitting, will attend the City Council meeting, which is on Wednesday November 5.
With appreciation,,
Steve
If any of you want to throw in your 2 cents, showing up to the meeting would be great, but you can send a message to the MAYOR or send a message to GARY REESE directly from these links. Tell them that "HISTORIC PRESERVATION IS IMPORTANT TO US!".
(UPDATE, For about the last 5 hours, the wrong picture of the actual house was on the blog. The Santa Barbara style home with the tile roof is the correct house. My apologies)