We all know there's homes for sale. Lots of them, in fact. But there's also homes for rent, and we rarely cover them here at Very Vintage Vegas. This week I'm going to feature some of them, and use them to demonstrate how fun, interesting and diverse the historic neighborhoods can be.
I often help people to find a rental, though it's not a service I advertise. Mostly I do it when it's someone who is new to Las Vegas. They know they'll buy eventually, but want to rent for a while so they can get the feel of things, and the "lay of the land". I can help my readers or their friends find a rental also.
Sometimes, I'm asked to help find a tenant or to manage a property. I don't have a management license, and refer the owners to Bonnie Adar-Burla at Oak Tree Management. She does a great job of property management. There's several downtown homes that she has for lease that we'll be discussing and helping to promote this week. We also have some very "groovy" homes for rent that MaryMargaret Stratton owns and manages.
Before we get to all the others, I want to tell you about 1131 Strong Drive in McNeil.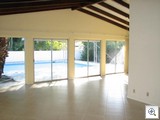 I was all aflutter last year when I discovered a home in McNeil that was just the epitome of great Mid Century Modernism. It also made the point that the classic desert modern design wasn't the only type of MCM. A very ranch styled home from the front, but pure modernism from the inside and the back.
The owner has now asked me to find a tenant for a one year minimum lease. The $1800 a month will include pool and landscape service.

One of the most rare elements of modernism was the exposed beam ceiling. Every room of this home has exposed beams, and the other 4 things I love about it are the 3 original bathrooms and an unbelievable original kitchen.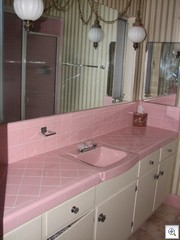 The Master Bath is in Pink, with one of the coolest showers I've ever seen.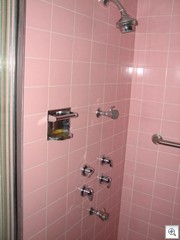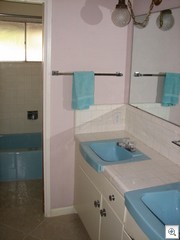 The hall bath is very well preserved in Blue, and the guest/maid/roommate bathroom which is en suite is in maroon.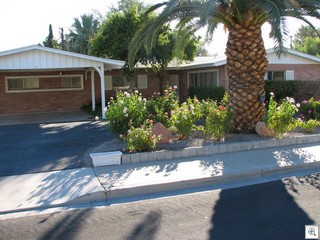 I'll be getting it into the MLS today as a rental, putting a v-flyer together for the featured homes section. In the meanwhile, if you know of a candidate for a 2600 foot 4 bedroom, 3 bath pool home in McNeil, give me a call.
So let's not forget that there's another whole part of real estate in Vintage Vegas. Some people just rent. They're not cut out to be owners, or aren't ready financially or mentally for it. There will always be renters, and there will always be landlords to provide them housing. Some of you should be landlords, and some of you shouldn't. Some of you should be renters and some of you shouldn't. All of you should be appreciative of the great mid century modern housing opportunities that exist.