This week we're looking at some of the rental properties that are available. In general, the rental market is pretty tight, and rents have been rising. Many of the homes that were in the rental inventory are now part of the foreclosure inventory. This has caused a reduction in the number of properties available for rent. There's also the factor that a lot of previous homeowners who have been foreclosed on have become renters again.
Supply and demand dictates prices. It's one of the unchangeable laws. It's true in the sale market which is why prices have dropped so dramatically for buying, and it's true when it becomes harder to find a rental and rents push upwards.
MaryMargaret who started the Atomic Age Alliance, our club for Mid Century Modern lovers has a couple of her properties that are coming available, and we're giving her a big plug today. Everything MM does is creative, dramatic and fun. Both her descriptions and the properties themselves are great examples, and there's multitudes of great mid mod photos if you follow the links.
If you know someone for any of these, MM's contact info is in each of the links, and make sure to tell them mention VeryVintageVegas or UncleJack. (I collect brownie points also, btw).
El Ranchito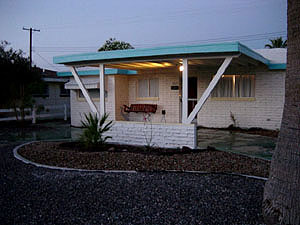 This home was named after and takes its design cues from the Strip's very first Casino – the El Rancho Vegas which was designed by Wayne McAllister in 1941. El Ranchito carries along the El Rancho spirit by using the same color scheme, plantings and updated version of a split rail fence. The weeping mortAr brick finishes up the facade nicely. The original El Rancho was about a mile away from where this house stands. The home features nifty fifties light fixtures, cool original ceramic tile bathrooms and pristine original condition Oak HARDWOOD FLOORS! The interior features sparkle gold glitter ceilings, large sliders opening up to the back yard with covered patio and a private pool.
Pictures and more here:
http://www.futurahouse.com/elranchito.php
$1400 month – VVV fans who identify themselves – get a $50 discount!!!
AVAILABLE NOV 1
The "Space Age Bachelor Pad" at the Pistachio Pad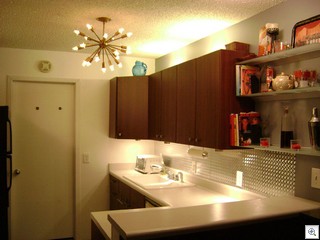 This classic Las Vegas triplex has the ultimate Classic 1950s vibe! Retro Vintage Formica in the kitchen! Spartan retro design, but with everything you need to have a winning stay in Vegas! The Space Age Bachelor Pad has mostly built-in furnishings: desk, bookshelves, cd shelves, and bureau, but also includes a rolling queen bed and desk chair. This is an efficiency unit with kitchenette with full sized fridge and icemaker and a dishwasher, just no stove or oven, but hey – back in the 1950s – a bachelor ordered in Chinese and used a hot pad! (We'll supply the hot pad and linens and dishes if you need them).
By the way… Why IS it called the Pistachio Pad? Because we planted 3 nut bearing pistachio trees in front. There are also 2 almond trees, a lemon tree, and there is more room to grow if you like to garden…
Pictures and more here:
http://www.futurahouse.com/pistachio.php
$900 month includes ALL utilities AND free wifi and Free cable tv.
AVAILABLE NOV 1
Hale Mala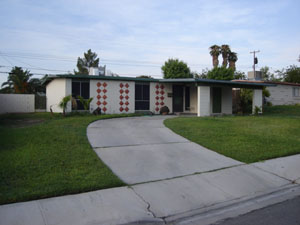 This home is extra special. It has an original "Youngstown Kitchen" (original hip collectible all metal kitchen cabinets). If you love the Book of Tiki and wish you could spend more time in Hawaii, then you will love this home! It even features the original 1960s tiki print backsplash in the bathtub! There is a large in-ground lava rock fire pit in the back yard perfect for summer parties! There is tiki art and even several tikis are on site including one carved by the famous Leroy Schmaltz of Disneyland's Tiki Room Fame.
Pictures and more here:
http://www.futurahouse.com/halemala.php
$1350 month – VVV fans who identify themselves – get a $50 discount!!!
AVAILABLE DEC. 1
Caddy Shack Vacation Rental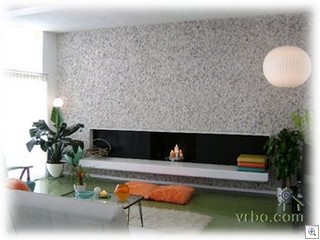 And then there's the Caddy Shack which was the last stop on the Historic Paradise Palms Neighborhood Home Tour a few weeks ago.
There's more some pictures of the Caddy Shack in this link to the Vacation Rental By Owner Listing.