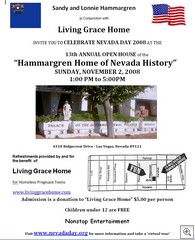 This is your official invitation. There's still a few slots open for volunteers. Call or Email me if you want to help.
Trust me on this. You'll want to attend this event.
Admission is a donation to the "Living Grace Home" for pregnant teens www.livinggracehome.com
$5.00 per person; children under 12 are FREE
Below is the entire press release, which I didn't write.
"Hammargren Home of Nevada History"
13th Annual Nevada Day Open House
Sunday – November 2nd; 1:00-5:00 PM
Howard Hughes and Bugsy Siegel exhibits
Las Vegas, NV: October 28, 2008;
there are three areas at the Hammargren complex we will highlight for the 2008 Nevada Day celebration this year:
• Howard Hughes; his aviation achievements, exhibits, artifacts and flight records
• The European Space Agency's Columbus Laboratory Exhibit and more
• Signs & memorabilia from four recently imploded Las Vegas Hotel/Casinos; and
over a decade ago, when the Flamingo Hotel razed Bugsy Siegel's famous "Oregon Suite", the hotel pool and other motel building…Dr. Hammargren was there…and hauled off some historic gems.
November 2nd is the 61st anniversary of the only flight of the Spruce Goose.
The "Howard Hughes Engineering Office" is nearly complete with photos, books and records. The black & white checkered tiled floor is symbolic for the many FIRST PLACE wins Hughes racked up flying airplanes, making movies, launching satellites and distant space probe; and in death, annually his Medical Institute is the richest and gives upwards of ¾ of a $billion dollars towards medical research. (www.hhmi.org )
Dr. Hammargren has acquired a spare engine for the Spruce Goose (has 8 engines). A large portion of its hermetic sealed container has been removed so the technology can be viewed. This power plant is an awesome display. It is a 3000 horse power Pratt & Whitney engine. "Howard Hughes was always fascinated with combustion engines, considering his Need for Speed; said Hughes historian Bob McCaffery. "The twin engine XF-11 aircraft that Hughes crashed and was nearly killed in 1946 had two of these thunderous engines." he added. Most of the cabinetry & fixtures in the HRH Engineering Office are from the Howard Hughes suite at the Frontier Hotel including the 'crapper'; and there's the wheel/chassis from Howard Hughes private railroad car. The neatest under glass display is the original architectural model of the Desert Inn Hotel/Casino. Lonnie has the D.I. Sign too.
.
Space Exhibits at "The Hammargren Spaceflight Center"
Believe it or not…Ripley; Dr. Hammargren has own spacecraft complex nestled from public view atop the roof of his 'center-house'. The space display theme(s) began over 25 years ago when he acquired a for-sure real Apollo Spacecraft used for splash-down tests. "I was a NASA astronaut candidate and flight surgeon at "The Cape" at the time astronauts Grissom, White, and Chaffee were killed on the launch pad. That did not discourage me from pursuing becoming an astronaut; however my eyesight failed me and I had to flunk myself"; said Dr. Hammargren.
"I bought all of spacecraft models from Bob Stupak's Vegas World that soon became a 'critical mass' of space stuff, so I continued to add, modify and construct over the years. It's slowly gaining its credibility as an educational tool"; said Dr. Hammargren. "Education has always been my intent"; he added.
Near completion are various models: a 2/3 scale model the USA Space Shuttle,
Columbus – a European Space Agency Science Laboratory that is part of the International Space Station (long as a football field.) An Orion space capsule, America's next generation of space launch vehicles. A small model of the Apollo-Soyuz hookup in orbit in 1974. Russian Cosmonaut Alexei Leonov, the Soyuz commander has visited the Hammargren home and praised the Doctors space exhibits.

Artifacts From Famous Las Vegas Strip Hotels
Dr. Hammargren has 'acquired' signs and other interesting things from four recently imploded Hotels; the Frontier, Stardust, Nevada Palace, Klondike Inn. And from the Flamingo Hotel over a decade ago, when the Flamingo Hotel razed their old motels, the famous pool and The Oregon Suite, where Bugsy Siegel lived. Bugsy's favorite color was chartreuse. Lonnie got his Potty. It's chartreuse, as are all bathroom fixtures and the chandelier, all chartreuse. And then Doc got the famous giant welded flamingo statue from the famous swimming pool area. Imagine the history of four decades of happy tourists lounging poolside. The 50's thru 80's will someday be recognized as our finest decades in our countries history.
As Robin Leach has said…"you've got to see this place to believe it."
Refreshments provided by and for the benefit of the Living Grace Home
Written by: Bob McCaffery, Howard Hughes historian 286-6604: McCaffery led the effort
to save the Spruce Goose in 1980 and served as President of the AeroClub
of Southern California, owners of the aircraft. www.theaviatorhh.com