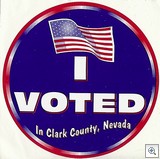 If you'd like to watch the election returns with a bunch a lot of downtown residents, then join us Tuesday night after the polls close. The Party is at Dino's on Las Vegas Blvd at Oakey.
Your "I VOTED" sticker will get you a free drink, and I'm helping to sponsor free pizza thru the evening.
Heidi Swank and Steve Evans are organizing it, and all of you are invited. The promised it's a non-partisan party, so come on over and meet some new friends.