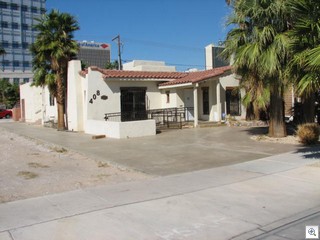 The Las Vegas City Council stepped up and told the developers of the property that includes the "Pop Squires" home that their requests for variances and zoning changes wouldn't be heard until they dealt with the issue of saving the home!
The current owners not only agreed to donate the home, but to also pay for moving it to another location. This is a great win for the historic preservation movement of Las Vegas. Of course, there's a big "But" in that now we're confronted with finding a new home for it.
Pam Hartley and planning commissioner Steve Evans, who first brought the issue to our attention are already on it and are contacting the Clark County Museum and other non profit organizations. We'd love to see a group step up and adaptively re-use the home in the same way that the Morelli House has become the headquarters of the Junior League, however museum setting is perfectly fine with us.
We had a few unexpected speakers at the City Council hearing. Former County Commissioner Thalia Dondero spoke eloquently about sitting on the porch of the home as a child talking to Mom Squires, and the importance of having the squires remembered as the Father of Las Vegas. Others spoke about the inappropriateness of a 5 story McOffice being built across the street from the original Las Vegas High School, which is a the cornerstone of the Las Vegas High School Historic District. Thank you, also, to those of you who took action and called and wrote to Mayor Goodman and Councilman Reese.
If you'd like to know more, there's a walking tour and brochure about the Las Vegas High School Historic District.