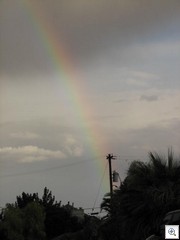 I've only ever caught a half dozen rainbows in all the years I've lived in Las Vegas. MaryJoy was out at the airshow and says it was spectular from NAFB. I caught it on Bracken and got a picture of it near the Mayme Stocker house which is where MaryJoy now lives.
In the picture below, the 1 story weeping brick home on the right is the Mayme Stocker Home.
Mayme Stocker was granted the very first gaming license when the legislature legalized gambling back in 1931. She was the owner of the Northern Hotel at 15 Fremont Street, where the license was used, as well as other motels and businesses along Fremont.
When we were at the UNLV Special Collections Open House on Friday, we discovered that they have a Mayme Stocker Collection of her papers and photos. MaryJoy and I have an appointment to go thru the collection next week. We also found out that the UNLV Special Collection is open to the public, and any of us are able to do research there.
Lynn Zook featured Mayme Stocker in the "Women who built Las Vegas" Documentary that was done for Classic Las Vegas.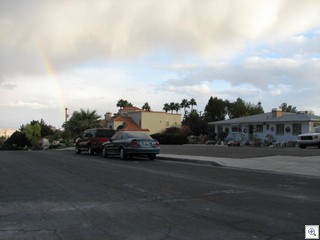 We recently found out that the home not only was built by Mayme Stocker, but was designed by Walter Zick. Walter Zick was the architect of the El Rancho Vegas and The Dunes, as well as Maude Frazier Hall and Flora Dungan Hall at UNLV.
In the next post down, I mentioned some of the commercial buildings that we know we'll need to preserve in the future. Many of them, we've discovered, were also designed by Walter Zick, and we'll be doing a series of posts about them in the coming weeks.