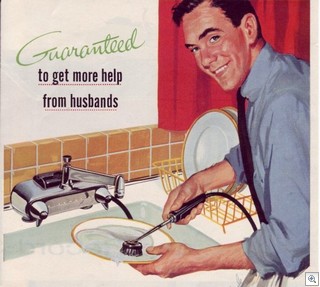 I had no idea they still make these. We had one in our 1952 home in Columbus when I was a kid! I don't know that it got my dad to do the dishes, but I sure did my share of them when I was little.
I've only ever come across 2 of them that were still installed in homes. In both cases, it was at least 10 years ago, and they'd barely invented the internet, never the less blogging back then, so I wasn't into taking pictures of every cool thing I saw.
I think it would be a real camp to put one of these on the streamlined 21st century modern kitchens I was talking about the other day.
Mid Mod Pam, the queen of all things 50's and 60's is responsible telling me about this.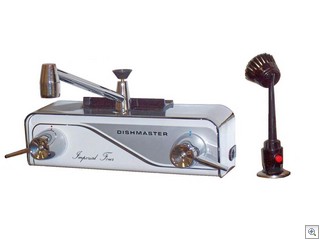 About The Dishmaster
I love this product, its authentic retro style and "Dishmaster Living." What is Dishmaster Living? Slow down. Cook up a storm. Make a happy mess in your kitchen – then have some more fun cleaning up. Yes – the Dishmaster's circa-1948 faucet makes washing the dishes fun via the "Push Button Dishwashing" action of the special aerator brush wand – which dispenses soapy sudsy water and rinses clean, too. Feel good about use of precious resources as well: The Dishmaster conserves water, energy and detergent. And, it's Made in America, by a small company right in Indiana. If you need a new-old kitchen faucet – I hope you will consider buying a Dishmaster from Pam of RetroRenovation.com. Read more at RetroRenovation.com or at her special new site, DishmasterLiving.com.