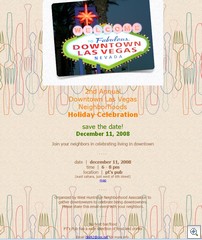 West Huntridge Neighborhood Association is once again inviting you to attend their 2nd annual holiday gathering for ALL Downtowners. Everyone is invited to come and and meet some neighbors and downtown enthusiasts.
December 11, 2008 from 6 to 8 pm at PT's Pub on Sahara just west of 6th Street.
It's a no host get together, so you can order from the bar or from the restaurant.
Watch for an upcoming invitation from me. I'll be hosting a VVV readers get-together sometime in December. It'll be a no host bar, but I'll be springing for the appetizers. I'm thinking the new Frankie's Tiki Lounge. Any other good suggestions?