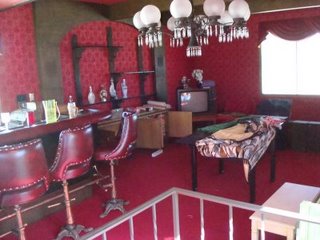 I missed it! Didn't know about it. Neither did almost everyone else that should have been there.
Fortunately, Steve Friess, our favorite freelance journalist, blogger, podcaster and client caught the last 2 hours of the estate sale of Robert Maheu's collectibles. Robert Maheu passed away on August 4th at the age of 90.
Steve took lots of pictures, one of which I captured for this post, and had a lot of fun poking and prodding into hidden spaces.
The link to the Estate Sale story is here, but his daily blog about happenings in Las Vegas and the strip is one blog that you should be following as well.
AND MOST IMPORTANT – lots of people send me lots of things that they think I should know about, but stuff like this estate sale – advertised only in print, which hardly anyone reads – is easy to miss.
PLEASE – if you hear of things like this, I'd rather get tipped off by a dozen of you than not know about it altogether. For that matter, if you have an organization or charity event or something that might catch my fancy, I'll consider plugging it for you if you send it my way.