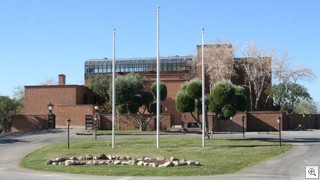 I heard a rumor that it's going to be torn down. It's the Sunrise Mountain Mansion of Don Reynolds, the founder of the Review Journal and Donrey Media Group.
I never got to even be inside the gates of the 15 acre estate, but passed it by a hundred times. I alway marveled at the size and scope of it, as well as the interesting lines and the glass roof view deck overlooking the entire Las Vegas Valley.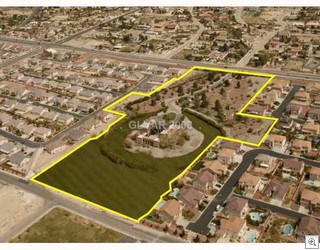 Don Reyolds built the estate in 1971, and lived there until his death in 1993.
The last I heard, back in 2006, it was being donated to the county. Turns out county didn't accept it, and now it's owned by Denver Square Trust. A very interesting character named Glenn Campbell who has lots of websites about aliens, did some research of his own about the donation in 2006, and published some great pictures as well.
Regular reader Shayna Gilliam did the googling to find these websites, and got interested in it because of a Craig's List Ad a few months ago . The agent who told her about it, said that it was all going to be demolished, and the ad was for the fixtures in the house. Shayna bought a few things this summer, and says they're still selling them. I've tried to get confirmation, but am still awaiting some returned calls.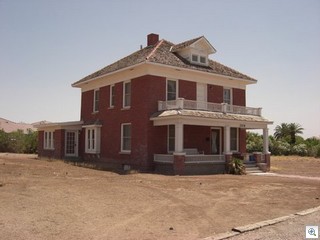 He also moved his childhood home from Oklahoma to the property in 1991. They dismantled it brick by brick and put it back together here in Las Vegas.
It's a "prairie four-square" styled home. There used to be homes like this on Fremont Street a hundred years ago! There's no other like it that I know in Las Vegas. It is, however pre war classic, and the exact opposite of everything we talk about when we talk Mid Mod.
Just TODAY, they sold the childhood Oklahoma home on Ebay for $10,200. I'm wondering if the high bidder is moving it again, or just going to salvage all the brick.
I guess that still leaves us with more questions than answers.
Here's the listing the last time it was in the MLS and a few of the pictures.
Here's an article about Don Reynolds from the DWReynolds Foundation Website.
Below the fold (sometimes called "after the jump" I've recently learned) are some more pictures from various sources.