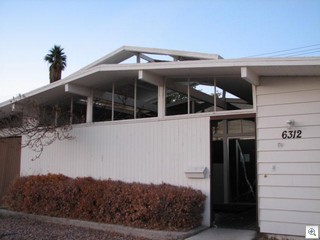 One of my favorite construction styles is the post and beam that was common in Mid Century Modern Homes In Las Vegas. The concept certainly wasn't new or modern, but the way it was adapted, it caused the advent of the high ceiling, open floorplan that we cherish.
One of the best production examples was by a builder named "Sproul". He's responsible for 1000's of homes on the west side that are called "Charleston Heights". There's a fascinating story about how those 1000's of homes came to be in the RJ's FIRST 100 series. The article is about Earnie Becker, who developed the land, but it was Sproul who built the homes.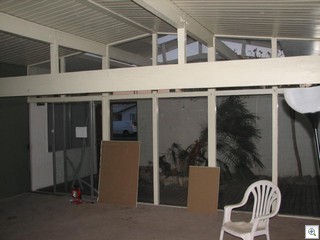 The design that caught my eye is a $90,000 foreclosure in Charleston Heights #40A at Alta and Torrey Pines, but it also exists in another Sproul development called Winterwood near Nellis and Sahara.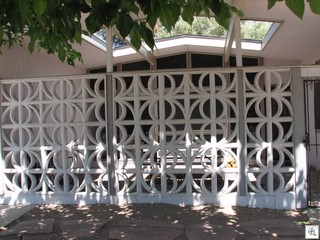 In Charleston Heights, this model has a solid wall at the front of the home to create the courtyard as you can see in the first picture. Out in Winterwood, they built it with decorative concrete block which really improves on the look of the home.
Similar to many of the Eichler Homes of California, it had a courtyard entry, and was a see thru house. Once you were in the courtyard it was all glass in the front and rear of the high pitched, post and beam home.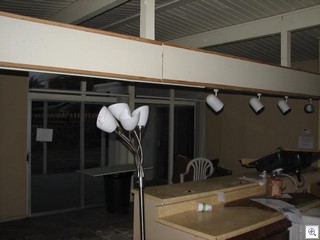 There's been a lot of moving things around in this particular home. Someone pulled out the kitchen sink and the toilets. Someone brought in a lamp and a chair. We joked about it being partially furnished. The pictures in the MLS are much better (believe it or not) and since it just recently went to contract I'll go ahead and give you the link so you can see them.
The reason I was out in Charleston Heights was because of Adam, who's moving here from New Orleans. He's looking specifically for post and exposed beam construction like this, but also wants to be "central". And he wants to be where it's hip and cool and fun and energetic. He's looking for an urban lifestyle in a mid mod home. If ALL he cared about was Mid Mod Design, then there'd be plenty to look at in Charleston Heights or Winterwood.
I rarely talk about Charleston Heights even though there's a ton of great mid mod design there. I don't usually blog about it because it's "out west", even though half way to Summerlin isn't actually all that far. I rarely mention it because no one ever tells me they love it there. I'm sure there are those who do.
Maybe if I were to blog and talk about Charleston Heights, Winterwood, parts of Henderson, and North Las Vegas, then they would become hip and fun and cool and interesting again. I'm only capable of covering so much ground, so in the meanwhile, they do have a lot of excellent Mid Century Modern Design and Architecture, even if the hipness, fun and location are lacking to my way of thinking.