Mayor Oscar Goodman Gives State Of The City Address At Historic 5th Street School In Downtown Las Vegas
Downtown Las Vegas hosted the annual State of the City Address by Mayor Oscar Goodman. The event was held at the recently opened Historic 5th Street School.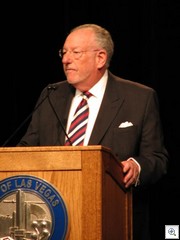 Mayor Goodman spoke briefly about things that had been accomplished in the City of Las Vegas over the last year. Except for brief remarks about Union Park, the Lou Ruvo Brain Center, the 5th Street School and The Jewelry Mart, there didn't seem to be much to be bragging about.
If last years theme was sustainability, then this year's would have to be labeled as "survivablity". The message was that "we'll get thru this". His Honor pledged to never lose site of the official vision to transform the city into a "world class city". His remarks were surprisingly brief, though he seemed very healthy and robust in his presentation.
The reception afterwards was sparce which was appropos to the budget situation. We did get to speak to Mayor Pro-tem Gary Reese, Councilman Ken Wolfson, Judge Kerns, Gary Gray,  Michael Cornwaithe and Jennifer Harrington, as well as sculptor Steven Ligouri and architect Ken Carlson. Mayor Goodman got caught up in press interviews, and never made it into the reception hall.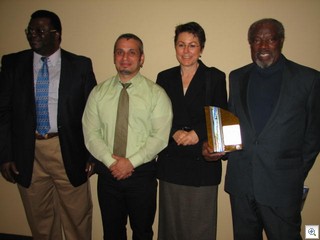 Our dear friend Denise Duarte, who has her gallery in the newly opened Southern Nevada Art Center at Neonopolis (which didn't get mentioned in the speech) was chosen as one of the recipients of the "urban design award". Their project, The Ancestral Gateway" is at the Doolittle Senior Center at Lake Meade and Martin Luther King.
The other Urban Design Award Winners were the Fremont East Entertainment District, and the Molasky Center in Union Park and the Historic 5th Street School.
You can watch the whole event on the city's Channel 2. All of my photos are in a gallery at my Facebook Page.