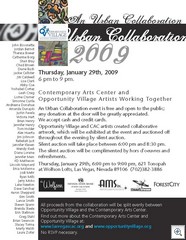 This should be a fun event, and it's open to the public.
If you never got to see the Wolfson Lofts, then it's worth it just to see 21st Century Modernism done right.
I support and promote both the Contemporary Arts Center and Opportunity Village, and I hope that you will also.
Thursday, January 29th, 6 to 9 pm at the Wolfson Lofts.
Wolfson Lofts are located on Tonopah between Charleston and Rancho, just north of UMC Hospital.
(the invitation is a clickable thumbnail if you'd like to see it full sized)