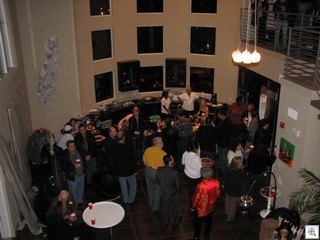 Hosted by Ken Wolfson at his Wolfson Lofts project, the Avenue, several hundred people packed the cocktail party and silent auction.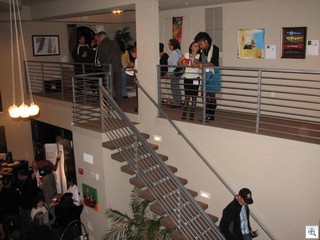 We're very pleased to see so many people, (including many suburbanites) out for an evening of Art and Conversation in the Historic Neighborhoods of Las Vegas.
There's lots of art openings, as well as many special events such as this, every month, and you're always invited.
Each piece of art was a collaboration between one of the well known downtown artists who are members of the Contemporary Arts Center, and one of the clients of Opportunity Village.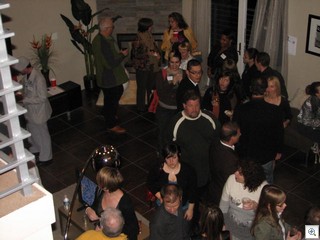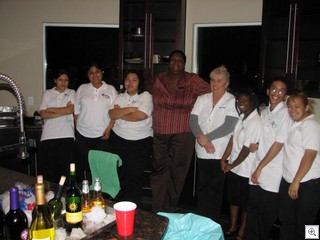 Opportunity Village Clients served the appetizers, and many of their artists were present as well.
All of the pictures are in an album on my facebook page, but I'm posting here some publicity shots from when the lofts were for sale, as well as a few crowd shots from last night.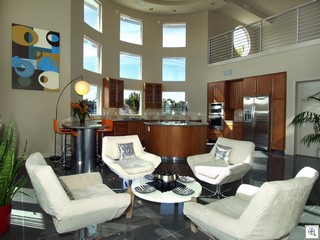 Ken's whispered in my ear that he's planning a new urban infill project that he says will knock my socks off. He's in the drawing stages for 2 story cocktail houses that pay homage to all the great design elements of mid century modern –but with a 21st century modern sensibility. I can't wait to see what he's cooking up next.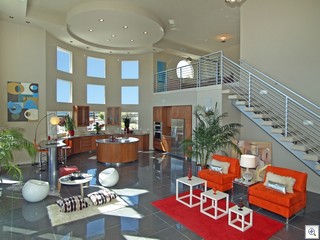 Ken Wolson thoroughly understands the concept that was achieved in what we now call "Mid Century Modern". Open living, walls of glass for natural light and the merging of indoor and outdoor living. Clean lines, simple furnishings, and natural stone accents give a sophisticated urban feel.
Ken gratiously donated this loft for last nights party, and the Contemporary Arts Center and Opportunity Village are most grateful.