First Friday is tomorrow, of course, because February 6 is the First Friday of the month.
Did you know that many of the galleries and studios in the Downtown Las Vegas Arts District are also open TONIGHT? The day before First Friday often has pre-view showings as well as opening and closing parties.
Tonight: Thursday February 5,
Henri & Odette
At the Arts Factory: 6–10 pm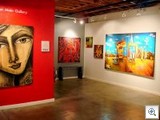 Jennifer Main is "moving on" and is holding a reception and show
"Preview Night" There will be paintings from Joseph Watson, and Niki J Sands who are taking over the Jennifer Main space.
Danny Roberts (DamnedInk Studios) is having their 2nd anniversary party

Trifecta premiers Glenn Fry's Large scale, monochrome, contemporary serigraphs based on the dot magnification of reworked vintage advertisements. Glenn is from Washington DC . Preview February 5 ; 5-9 show runs through Feb 28, 2009.
Once you're out tonight (I'm still being a home body, so if anyone wants to do some reporting or critiquing….write it up and send it in) ask around for what else is open, so that you don't miss anything.
This FRIDAY is FIRST FRIDAY In the downtown Las Vegas Arts District.
There's all kinds of new stuff, and regular stuff, and stuff stuff. I can't imagine why anyone would miss it.
AND…. I've hired some daytime help to help me care for JJ. I'm starting to make appointments again, and catch up on all the new listings again, and get out to find the best ones, which will ultimately lead to being back on track with my regular posting schedule. Stay with me.