Michelle, one of our regular readers tell us about a music happening in Downtown Las Vegas that looks like a lot of fun. It's every Tuesday 9pm at the Beauty Bar! Free at the door, just buy a lot of drinks! Beauty Bar is on Fremont in the Fremont East Entertainment District.
Check out the my space page and be sure to look at the graphics they produce. They're killer! Here's the one for this coming Tuesday's Rockabilly edition.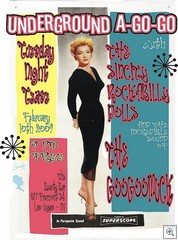 Hey Uncle Jack,
I don't know why I didn't think about it before, but I think you might be interested in a weekly Vegas hang out at the Beauty bar called Underground-a-go-go! It's put on by my girlfriend Kassia from Babes in Sin Burlesque.
It features a different style of underground music every Tuesday night at 9pm. She features monthly Swing nights, Rockabilly on the 4th Tuesday of every month (DJ'ed by my husband) Garage, surf… 60's mod & funk… you name it! Her link is http://www.myspace.com/undergroundagogo… It's free to get in and hey, it's at the fabulously vintage "Beauty Bar Las Vegas". *wink*
Just thought you might like to check it out and share it with your followers!
Take care,
Michelle