2 events deserve your attention, and attendance!
Roller Disco Meets Downtown Las Vegas!
Down and Derby Launches Roller Skating Event
at Beauty Bar, February 14
Retro-Inspired Skate Night to Premiere in the Heart of
Downtown Las Vegas on Valentine's Day
LAS VEGAS — Down and Derby is rolling into downtown Las Vegas to launch a new skate night at Beauty Bar on Saturday, February 14. The trendsetting roller skating organization is set to premiere the first of many retro-inspired events that will occur every month, pumping up the heart of downtown with a refreshingly unique nightlife experience.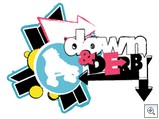 Down and Derby will have couples falling into each other's arms, and perhaps falling in love, as the skate party kicks off on Valentine's Day 2009 from 9 p.m. to 2 a.m. Hipsters and scenesters alike will spin on slick wheels while DJs Nugget and $HR3D spin everything from Earth, Wind & Fire to Daft Punk.
The entry fee is $5 with RSVP, $10 at the door, and quad skates of every size will be available to rent for another $5. Guests are welcome to bring their own roller skates to the event. Fashion attire reminiscent of a 70s roller disco is strongly suggested as it adds to the overall atmosphere of the event. Beauty Bar is located at 517 Fremont St. # A in Las Vegas, Nevada. For dress code information and to RSVP, please visit www.downandderby.org. Guests must be 21 and over.
Down and Derby is a retro-inspired roller-skating party created and designed to give attendees a unique nightlife experience. The throwback events combine décor reminiscent of a 70s roller disco with attendees participating through fashion attire evocative of the era. DJs known for pushing the limits of mixing and music production are procured, adding vibrant energy to the event with underground and popular mixes.
Rising event producers and promoters, Vince Masi and Richard Alexander, are currently bringing one-of-a-kind events to Las Vegas with plans to expand the roller skating rink revival to other West Coast cities. Vince Masi has previously worked with the marketing and event production team of Red Bull in New York, as well as managed and promoted up-and-coming DJs on the brink of discovery. A graduate from the University of Nevada, Las Vegas, Richard Alexander is currently the Events & Marketing Coordinator for 944 Magazine and founder of DTK Productions. Alexander has a leading role in creating and implementing over-the-top events within the fashion, nightlife and entertainment industries in Las Vegas.
Pedalphile Pirate Parade
Then, it's the monthy downtown Las Vegas Bicycle Bar Hop. It's every month on the Saturday after first Friday. This month, it's a PIRATE THEME bar hop.
Bring your bikes to the back of the Arts Factory by 7pm. Dress like a pirate! Decorate your bike! Have a great time, and meet a bunch of dedicated Downtown Las Vegas neighbors.
From The Facebook Group: (you are on facebook, AREN'T YOU?)
The First Annual PedalPhile Pirate Parade! Wear your best eye patch, grab a peg leg, and gear up your bike for some swashbuckling action. We'll sail the high seas of Downtown Las Vegas, take over large vessels, and practice off-colored hand gestures. Scurvy is not required.
Ernest says, "Arrr!".
Event: Pedalphile Pirate Parade
"Ahrrrr there matey! Nice bike!"
What: Cocktail Party
Host: PedalPhiles
Start Time: Saturday, March 7 at 7:00pm
End Time: Saturday, March 7 at 10:00pm
Where: Meet Up at the Arts Factory Parking lot