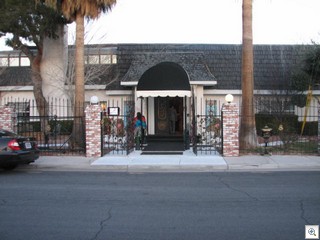 I managed to sneak out for a while on Saturday to attend the open house at Liberace's former mansion, which is now called the Las Vegas Villa.
The Villa still sports most of the decor that Liberace used when he built two small homes together, expanded them both, added a roof top "moroccan room".
The owners now operate the property as a private banquet and meeting hall. They've promised to do another open house for us in the spring. We should get a much longer lead time then. I'm happy to report that the majority of those who got to attend found out about it from VeryVintageVegas.
There's about 40 pictures in an album on my facebook page. Here's a few for those of you who haven't joined facebook yet.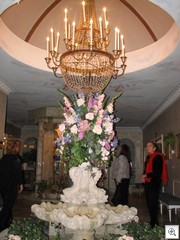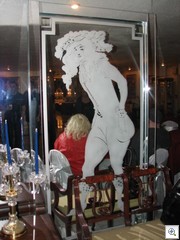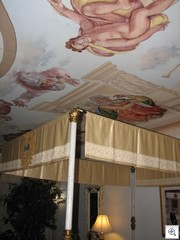 The ceiling of the master bedroom is a replica of the Sistine Chapel. It was painted by a decendant of MichaelAngelo.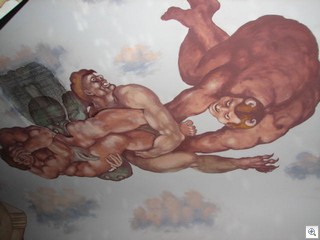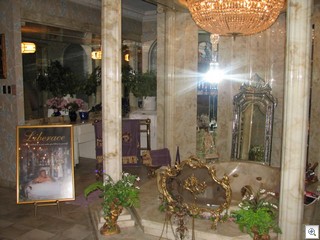 Liberace's face is painted over the elaborate bathtub, which is in the middle of the bedroom.

That's me and MaryJOY in the tub. All the pictures are thumbnails. If you want to see them bigger, just click on them.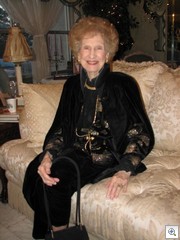 This is Ms. Kay Reed, who was Liberace's interior decorator. I got to spend a few minutes with this lovely 93 year old lady. I think that makes her the oldest resident of Las Vegas I've ever met.
She worked at Berthas furniture for 47 years. It was the highest of high end furniture stores in Las Vegas. Liberace met her one day when he came into the store, and they remained close friends right up to his death.
Bertha's is most famous, however, as it was the store that Tony "the ant" Spilotro's "hole in the wall gang" was in the process of robbing when they finally got caught. Their capture eventully led to the end of mob control of Las Vegas. Liberace didn't have anything to do with it, however (just to be clear).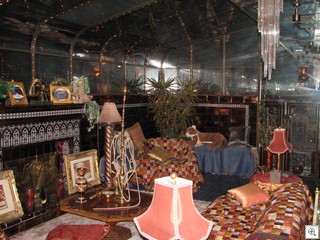 This is the Moroccan Room, which was Liberace's favorite part of the house. Just about every single famous name that ever performed on the strip was here to party.
Debbie Reynolds was Liberace's best friend, and she and many other strip performers frequently chilled out here.
The room has a glass canopy, and has views of the entire strip. You can see it from the outside in the first exterior picture above.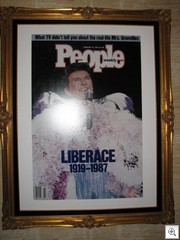 Liberace was a major force, not only in Las Vegas Entertainment, but in Real Estate as well.
He designed and built the Forest Hills Townhome community, and the model home for the community was owned by Liberace. It sports the 4 panel "4 Seasons of Lake Mead" stained glass windows, which we broke the story about last year. He's also responsible for the Marycrest Manor Condos on St. Louis, his mother's home on 15th Street, The Tivoli Gardens shopping center on Tropicana, where the museum is, and several properties in Palm Springs as well.
I hope you enjoyed these, but don't tell my mother that I put a picture of a wee wee on my blog — please!