I got this great note by email last night.
I like getting notes like this, for a variety of reasons, as you'll see. It prompted me to make a "marketing decision" that I'd been toying with. I discuss that after Karin's note.
Hi Jack!
Thank you for your Very Vintage Vegas site! I discovered it around Xmas, and have been a daily visitor ever since. I know you've heard it a thousand times – but I so wish I'd known about you and your expertise in the older Vegas homes when I'd moved here 6 1/2 years ago. Just like someone recently remarked, my realtor ( a family member – sigh) thought I was out. of. my. mind! wanting an older home. Her vision of my first home buying experience was a gated condo from the early 90s; my vision was a little house that would help me not be homesick for New Mexico. After 3 months and touring probably 60 homes, I found a little concrete block ranch in the Hyde Park neighborhood between Alta & Charleston. (I'm sad I'm just this side of Valley View out of your "very vintage" country – and some day I would love to have a conversation with you about helping my neighborhood step up to what it could be, with some love and attention.)

I'm writing to you today because I'm hoping you have information about a neighborhood I just found the other day. It's near Red Rock Elementary, sort of bookended by the Red Rock Baptist Church on Alta at one end and Fire Station #6 off Jones on the other end of Upland Avenue. (Side note – that fire station has the COOLEST tower made from those delightful concrete blocks!) While Upland has a few of the houses I'm interested in, it's really the streets of Mallard, Knight, and Wisteria that caught my attention – I think they are all what you've referred to as "mini mods". They have that slanted roofline, narrow vertical windows, and interesting concrete details – either the block, or bits that stick out, or designs embossed (?) on the chimneys. I'd love to know the history of this neighborhood, the builder, average price – anything you can tell me. I'm also intensely curious to see the inside of one – although I'm in no position to be hunting for a new home.

So I look forward to hearing from you! I know you've got lots of stuff going on, so no rush – just whenever it's convenient for you.

And some interesting tidbits: the March issue of Metropolitan Home has a feature on a re-model of a Palm Springs mid century mod home; a recent episode of HGTV's Rate My Space is a contemporary take on a MCM-style living room; and a cool thing to do with that decorative concrete block: put them down as a walkway, and fill the spaces with recycled glass "mulch".

Thanks again for your site!

Karin
I'm certainly well aware of the neighborhood she mentions. It's called Charleston Heights. It's a HUGE subdivision, with an interesting story that's told in this article. In the next few days, I'm going to go exploring with my camera and MLS Key. I haven't been outside of the boundaries of VeryVintageVegas for a while. I guess I'm going to be introducing some new neighborhoods after I write a post about Charleston Heights. I last mentioned it in a "fun features found in foreclosures" post from a few months ago.
Officially, I'm dropping the physical boundaries of VeryVintageVegas from my vocabulary. The neighborhoods that I talk about regularly, both on the blog and when I'm speaking one on one, are the downtown neighborhoods. They're already "cool and hip" according to one Realtor who specializes in them. But that's only because people know about them. These days, more and more people find out about them all time. I'd like to think that VeryVintageVegas is responsible for that.
If Las Vegas was a tree, you could clearly see each decade-wide ring as you go further and further out from VeryVintageVegas. Starting at downtown, you can see each ring because the architecture of the homes and the size of the lots change each 10 years.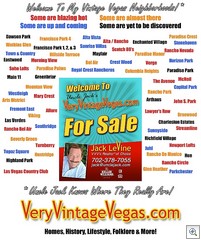 One of the last pieces of print ad that I ran (before I abandoned paper media as a way to advertise myself) was this. It was a color coded listings of the neighborhoods of VeryVintageVegas. There's some puffery in it, but the sentiment is right. Some ARE red hot and some are "undiscovered".
The parade I've been trying to lead for the last 10 years has been into the red hot "downtown" neighborhoods. Right this minute, every single home under $100,000 in the "historic neighborhoods" is essentially un-livable.
There's a lot 50's and 60's neighborhoods in the next ring out. They're the real "UNDISCOVERED" neighborhoods. Right this minute there's a whole bunch of perfectly livable homes that are under a $100,000. They're a little further out, but not much. There's some terrific "mini-mods" among them, but mostly its ranch modern 60's tract homes. The mini-mods, however, tend to be clustered together. Those clusters will turn upward first. Some streets and blocks are better looking, and architecturally more interesting than others. The same is true in the "downtown" neighborhoods, just at a different price point.
If your buying budget is constrained, or you want to pioneer a new area of hip-ness, then maybe one of the undiscovered neighborhoods would be perfect for you, just as it was for Karin.