Art and Artifice at Brett Wesley Gallery
BrettWesley Gallery in the Newport Lofts: Thursday 2/26 6–9pm wine and hors d'oeuvres in the luxurious Newport Lofts, penthouse suite 2109. 200 Hoover Ave, Las Vegas 89101 Valet Parking is provided. Please RSVP to Victoria Hart at 702–433–4433 or [email protected]
Art and Artifice features 3 artists: Erik Gonzales, Andrew Myers and Thomas Brummett. More on the artists at the Brett Wesley Gallery Website
Bridge Gallery At Las Vegas City Hall – Photos By Las Vegas Acadamy Students
Highs and Lows
The public is invited to the opening of Highs and Lows, a collection of photographic interpretations of Las Vegas by Las Vegas Academy art students. The exhibit opens on Friday, Feb. 27, 2009 at the Bridge Gallery located Las Vegas City Hall, 400 Stewart Avenue, with a "meet-the artists" reception from 3 to 5 p.m.
The Highs and Lows exhibit is a coordinated effort between Dawn Anderson, photography instructor at the Las Vegas Academy of International Studies, Performing and Fine Arts, and the Office of Cultural Affairs Gallery Program.
The exhibit will feature work by fine art/photography majors currently attending the Las Vegas Academy, a magnet high school that offers concentrated studies in Visual Arts. Located downtown in the Las Vegas High School Historic District, the academy has been operating since 1992 to bring fine arts education to Las Vegas valley youth.

Highs and Lows runs through Friday, April 17. The Bridge Gallery is open Monday through Friday, 8 a.m. to 5 p.m.
The exhibit and reception are free and open to the public. Call (702) 229-1012 for more information
Studio 810 – An Evening With The Artist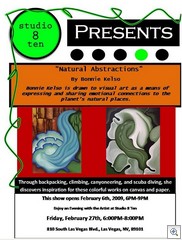 Studio 810 is at 810 Las Vegas Blvd. South. Friday, 2/26 6–8 pm
Studio 8 Ten is a non-profit arts and crafts studio and gift shop where adults with disabilities train in the design, creation, and sales of quality handmade products. Our product line ranges from handmade paper, cards, and books, to natural bath and body products, and stuff for pets. Each item has been uniquely designed specific to our company. All proceeds go directly into the creation of these items and to enhance the lives of those we serve. Studio 8 Ten is a Transition Services, Inc. small business concept. For more information please contact us at (702) 644-9418, email [email protected], or visit our website at www.tsilasvegas.com
(click on the flyer to see it full sized)