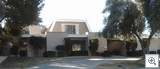 Vintage Vegas got a nice write-up in an article by Tami Cowden on the "Living Las Vegas" ezine.
Tami discusses the Mid Century Modern Homes and Neighborhoods of Las Vegas.
One of the best kept secrets in Las Vegas is that the city has several vintage neighborhoods containing a treasure trove of "Modern"-style houses. Most houses built between about 1940 and 1980 fit into this category, whether they are called ranches, ramblers, Desert Modern, Palm Springs Modern or simply Mid-Century Modern. Together these houses define a style of architecture that emphasized open floor plans and ample windows, with the goal of opening up interior spaces and bringing the outdoors inside.
Here's the full story. Tami and her husband Steve are currently negotiating on the home that I used as a "fun features found in foreclosures" piece from a month or so ago. You'll remember it, I think. It was the "Beige on Beige" house. Tami's been seen hanging out in the paint department at Home Depot ever since I first showed it to her.