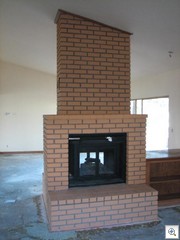 We're back in the Mid Century Modern Paradise Palms Neighborhood again, this week.
Our fun features home is one of my favorite floor plans. This one has had a terrific walk-around brick fireplace added to the huge vaulted ceiling livingroom. There's also about 40 feet of suspended soffiting for indirect lighting. The entire back of the house is all glass looking out to the National Golf Course.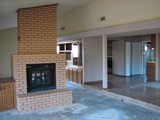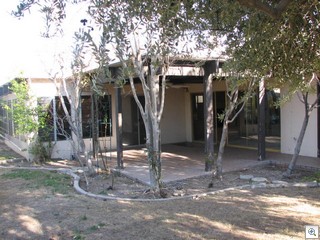 There's a room addition at the back of the house, but you'll have to look at the MLS pictures to see what's in it. It's pretty cool.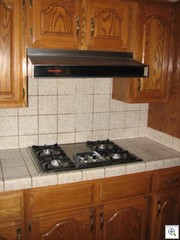 The Kitchen has been "Summerlinized", even thought the tile counters are pretty damn authentic looking. Remember, Mid Century Modern stlye is un-ornamented simple lines, geometric patterns etc.
Raised panel cabinets, arches and tuscan hardware have been popular since the late 80's, but there are those who argue that it's awful in a Mid Mod.
The kitchen is in great shape, even if it's not authentic to the era.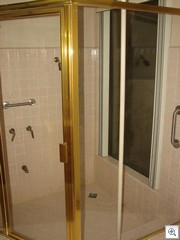 The other great original feature is the step down, sunken tub/shower with the floor to ceiling window to a private little garden area on the side of the house.
The stripper pole makes it easy to step in and out. I'm sure there are other uses for it, as well, but the pole is not original.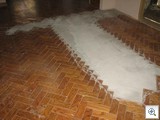 There's certainly some flooring work to do, and unfortunately, the cement slab had heaved and ruined the herringbone parquet flooring. The bank pulled out all the carpet in order to show off the terrible repair that was made and subsequently covered over by the carpet.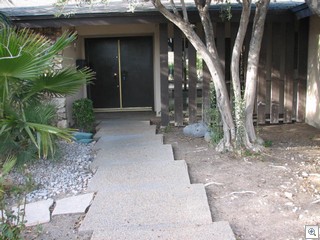 The front entry features offset concrete pads to form the walk way, as well as vertical slats to hide the slider from the dining room to the front planter.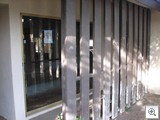 See if you can tell that this is the same home based on the MLS pictures and description. $194,900.