When you go to FIRST FRIDAY TONIGHT….(and you ARE GOING!) you won't want to miss the 20th Anniversary Juried Show at the Contemporary Arts Center in the Arts Factory. The show is there thru March 27th however, during regular gallery hours.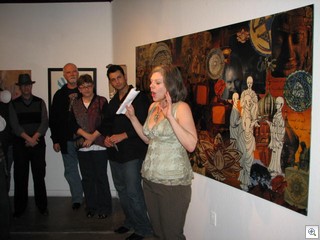 We attended the awards announcement party last night, and want to congratulate all the entrants.
Having heard the brilliant critique of the winners and honorable mentions by the juror, Shana Nys Dambrot, I realized how absolutely un-qualified I am, on ANY level, to be an art critic.
I'll let Jarret Keene from City Life tell you about the show in his thoughtful evaluation in last weeks edition.
Whatever the case, CAC's juried show is a testament to the talent and imagination of the artists of Southern Nevada. In a moment when the Vegas scene seems to be suffering a series of terrible blows, it's important for anyone who appreciates visual art to experience this show. It will lift your spirits even as it troubles your mind with its ominous imagery. (read the rest of the story)

In Keene's blog post this morning, he expounds a little more, and talks with the winner of the show, UNLV student Alexandria Bevilacqua .
I may not be capable of critiquing, but I will say that I was moved and impressed, and think you will be also.
Don't miss it.