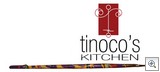 Downtown Las Vegas – Tinoco's Kitchen has moved to the Las Vegas Club Hotel & Casino about eight blocks from our previous restaurant on Casino Center & Charleston. We have completely relocated into our larger, newly remodeled restaurant.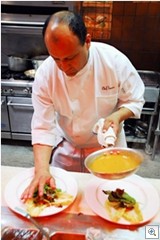 Chef Enrique Tinoco's eponymous restaurant has been a mainstay of the downtown dining scene since he opened in 1995. His menu is much as always featuring large, beautifully presented salads, meat & pasta dishes and his signature fresh seafood combinations, like Grilled Salmon & Shrimp Scampi on a bed of Angel Hair Pasta, Crab Stuffed Shrimp on Lemon-Parmesan Risotto and an incredible Pan Roasted Seabass with Lobster Curry Sauce. In true Fremont Street style, prices for dinner items range a reasonable 9 – 25 dollars.
"…the best part perhaps is Tinoco's family-run business is open seven days a week and has included a wholesome array of breakfast offerings. Something the competition at other high end dining destinations downtown have struggled to provide. "
Tinoco's now has a Private Dining Room for parties of 6 – 20. It is set up beautifully with fresh flowers, white linen and lit candles in a surrounding of fine art paintings. A projector and WiFi are available for business meetings.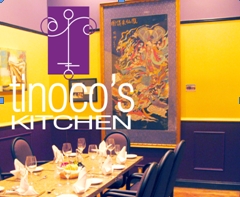 Tinoco's Kitchen is Located in the Las Vegas Club Hotel & Casino, one of the oldest historic casinos on Fremont Street and is across from the Golden Gate and the Plaza Hotel & Casino. The restaurant occupies what was known for decades as 'the Great Moments Room' and the dining room still retains much of its original charm. Chef Tinoco, long known for his close associations with several high profile Las Vegas painters, has teamed up with Photographer/Art Collector Carlo Roncancio to turn this restaurant into a kind of ever changing gallery of hip emerging LA and Vegas artists. The pieces are all for sale and information about collecting them is available upon request.